WHAT:
"That Queer Blind Silence" by émigré playwright Sophia Romma dramatizes the delusional psychopathology in the repression of the LGBTQ Community in Russia.

WHERE AND WHEN:
August 5 to 23, 2015
13th Street Repertory Company, 50 W. 13th Street
Presented by Underground International Voices of Theatre in association with The O'Neill Film and Theatrical Foundation.
Wednesdays through Sundays at 7:00 PM. Special matinee August 23 at 3:00 PM.
Tickets $20 general admission. Box office 866-811-4111 (Ovation Tix), www.thatqueerblindsilence.com.
Show's website: www.thatqueerblindsilence.com.
Running time: 2 hours with intermission.
Reviewers are invited on or after August 9.
Related event: Exhibition, "Ukrainian Guardians of Feminist Avant-garde," art works by Inna Bodner, curated by Heidi Russell, August 1 to 23 in the theater lobby.

NEW YORK – The human condition of gays in contemporary Russia mirrors life in a phantasmagoric insane asylum. That's the view of a new play, "That Queer Blind Silence" (www.thatqueerblindsilence.com) by émigré playwright Sophia Romma. Her political farce, written in English but in the style of Russian Expressionism, depicts the ordeals of a fictional figure skater whose character was inspired partly by the life and career of bronze medalist Johnny Weir. Underground International Voices of Theatre, in association with The O'Neill Film and Theatrical Foundation, will present the play's world premiere runAugust 5 to 23 at 13th Street Repertory Company, 50 West 13th Street, NYC, directed by John Beshaw-Farrell. Ten percent of ticket sales will be donated to Underground International Voices of Theatre to support that organization's efforts for equal rights of the LGBTQ community in the Russian Federation.

During the buildup to the 2014 Sochi Olympics, gay and lesbian life in Russia was rocked by the passage of a law against the promotion of "non-traditional sexual relations." While Olympic Sponsors and western statesmen cried out, harassment and violence against gays worsened. Threatening innuendos were spread in leaflets stating that prison and fines would be the punishment of deviants from the sexual norm.

Homosexuality had been decriminalized in Russian in 1993, and to Russian émigré Sophia Romma, herself an accomplished figure skater, the change in Russia's political landscape suggested a certain regression into delusional psychopathology, which she paints in this play. It is an absurd, outrageous, macabre tale in which a fictitious gold medalist in figure skating is stripped of his honor and exiled to an asylum in Siberia, where the head psychiatrist, a lascivious sex-nik and mistress of Vladimir Putin, reforms homosexuals through spiritual cleansing and ludicrous soul-purging psychiatric tactics.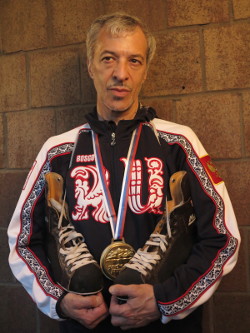 Romma's skater evokes the nonconformance of figure skater Johnny Weir, the 2008 World bronze medalist and three-time U.S. national champion, whose sexual orientation was a source of controversy during and after the 2010 Winter Olympics in Vancouver. The skater of the play, Szimon Pedro, known as the "Ice Oracle," had been getting by as a heterosexual pretender. But when he achieves his life's goal at Sochi, his western thinking and "individual expression" become suddenly corrosive of traditional values, demographic trends and the safety of children. So he is locked up among prisoners seen and unseen: the computer analyst and whistleblower Edward Snowden, a Russian lesbian feminist dissident journalist named Masha Guessin' (based on the real Masha Gessen), and the ghost of the actor/activist Paul Robeson. Szimon is pressured to rat out his gay athlete friends and subjected to electro-shock therapy, pseudoscientific libido enhancement and bizarre seduction. Can he withstand the pressure and earn heavenly redemption, or will he forever wear his gold medal as an albatross of bigotry around his neck?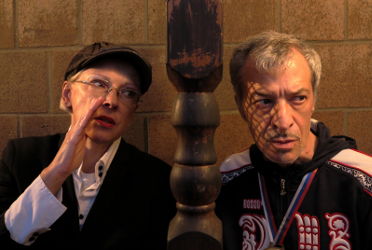 The literary style of the play is courageous and unapologetic staccato verse. It chillingly reveals the angst and paranoia which are forced upon free-thinkers and ethnic minorities of contemporary Russia as a result of Putin's opposition to western influences and his immoral annexation of Crimea. The play would be a harmless, perverse delusion if it were not so chillingly true to the angst and paranoia in Russia today.

Director John Beshaw Farrell explains that thematically, the asylum in the play symbolizes Russia herself, maddened by her own lost grandeur: Orthodox, Imperial and Soviet. The inmates have all been useful idiots in advancing dishonest propaganda. The consequence of being betrayed by what they thought were their virtues has left them all damaged, unfit for any other life but that of a madhouse.

Playwright Sophia Romma adds, "In some ways, Russia's assault on LGBT rights is simply an opposition to American hubris and western concepts of individualism that are foreign to the Russian way of life. Various ethnic minorities threaten the Russian government, as do liberated thinkers, free spirits, nonconventional artists and athletes and reporters who openly criticize the current regime." She continues, "It's not just LGBT activists who give Russia the heebie-jeebies. A soul has no true rights due to the indelible fact that the law of Mother Russia abides. The country is striving for liberation but bogged down by its repression of break-through individualism deemed hazardous to the country."

The play is choreographed by Leslie Dockery. Set design is by Gregory Okshteyn. Music is by Michael Bulychev-Okser. Theme music for "Paul Robeson" is by Otis Cotton. Incidental music is performed live by "Manana" from Armenia. The actors are Alice Bahlke, Walter Krochmal, Grant Morenz, Tommie Thompson, Gavin Rohrer and Marina Levinson.

ABOUT THE PLAYWRIGHT
Sophia Romma emigrated with her parents from Russia as a child. Her mother is from Ukraine and her father is a Polish Jew. Her birth name, Murashkovsky, is Polish but she officially changed it "because nobody could pronounce it" and as an homage to her father's mother, who was of Gypsy ancestry. She is a resident playwright of The Mayakovsky Academic Art Theatre of Moscow, where the name Quantum Verse was coined to describe her literary style. The name derives from the question "How real is the universe?" and the notion that it may contain parallel dialogues, a simple one and a metaphysical one.

She received her MFA at NYU and her Ph.D. from the prestigious Gorky Literary Institute in Moscow. Her last major production, "Cabaret Émigré" (2012) interpreted the soul of the émigré with Quantum Verse. Her "With Aaron's Arms Around Me and The Mire" (2010), two one-acts on the theme of intolerance, were presented by the Negro Ensemble Company at the Cherry Lane and played to appreciative critics and audiences. The New York Times (Andy Webster) wrote, "Each takes a refreshing, almost sideways approach to the subject of ethnic tension." The review had particular praise for "The Mire," where a humorless lieutenant having served in Iraq, is skillfully undone by a young filmmaker named Svetlana, "who speaks in effervescent wordplay artfully derived from Chekhov, and [the Lieutenant] is ensnared in her enchantments. So is the audience."

Romma had three productions directed by Leslie Lee at La MaMa: "Love, in the Eyes of Hope, Dies Last," "Coyote, Take Me There!" and "Defenses of Prague." Her other plays include "Shoot them in the Cornfields," "The Past is Still Ahead" (about exiled Soviet poet Marina Tsvetaeva), which will premiere in South Korea in November, 2015. "Absolute Clarity," and "Carte Blanche".

She was author of the film "Poor Liza," directed by Slava Tsukerman ("Liquid Sky") starring Ben Gazzara, Lee Grant and Barbora Bobulova. It won the Grand Prix Garnet Bracelet for best screenplay at the Gatchena Literature and Film Festival in St. Petersburg in 2000. In 2005, her anthology of poetry, "God and My Good" was published by the Gorky Literary Institute. In 2006, her collection of poems, "Garden of the Avant-garde," was published by Noble House, UK.

She is a member of the Dramatists Guild of America, a member of the League of Professional Women in Theater (where she is Chair of the International Committee) and Vice-President of the International Center for Women Playwrights. She has been Literary Manager of the Negro Ensemble Company and currently serves as Producing Artistic Director of The O'Neill Film and Theatrical Foundation, which is committed to the plight of gender parity in both the theater and film industries (www.theoneillfilmandtheatricalfoundation.com). For more complete info please view: www.thatqueerblindsilence.com/main.htm#author.

ABOUT THE DIRECTOR
John Beshaw-Farrell began working in theater as a protégé to actress Geraldine Fitzgerald when he joined her esteemed Everyman Company over 45 years ago. In 1981, Farrell immigrated to Ireland where he became a leading figure in that country's artistic community, though he probably remains most identifiable from his long run (19 years) as sidekick to Irish broadcaster Gerry Ryan. Farrell won In Dublin Magazine's Best Production award for his staging of "Twelfth Night" and "A Midsummer Night's Dream." He was director of Dublin's first Fringe Theatre Festival, an active Board Member of the Project Arts Centre and was, for several years, Director of Ireland's largest Arts Center, The Garter Lane in Waterford. Since returning to New York about five years ago, he has developed a one-man show about Brooklyn poet Walt Whitman, an on-going memoir/performance piece named "3 Lies About Brooklyn." Most recently, Mr. Farrell directed Sophia Romma's short play, "Carte Blanche," at the Midtown International March Madness Play Festival.

ABOUT THE VENUE
13th Street Repertory Theater, the venue for this three-week run, is the tiny landmark theater on W. 13th Street known as the home of the longest-running OOB show, "Line" by Israel Horowitz. The theater has presented traditional plays for 42 years under its founder and artistic director, Edith O'Hara, and is now bursting with new creative energy since the arrival last fall of its new Artistic Director, Susan Merson, who has renovated the place and is refashioning it into a community-based center for artists of diverse disciplines, presenting music, poetry, photography, painting and new plays.

RELATED EVENT
An exhibition of art works by Inna Bodner, titled "Ukrainian Guardians of Feminist Avant-garde," curated by Heidi Russell, will be held from August 1 to 23 in the 13th Street Repertory Company's theater lobby.

On Sunday, August 9, from 4:30 to 6:45 PM, the exhibition's opening will be celebrated with a catered reception of Ukrainian cuisine, Uzbek delights and champagne. Ms. Bodner was a long-time colleague and creative collaborator of playwright Sophia Romma, who will present a brief discussion on Bodner's prolific life in theatre and in art and on their successful collaboration. Heidi Russell will also hold a short Q and A session pertaining to the the selection of artworks chosen for this honorary exhibition.

Ms. Bodner died in August of 2011 from breast cancer at the age of 43. She had 350 artworks in private collection in Ukraine at the time of her death, including 200 works on paper. Donations will be accepted to help preserve Ms. Bodner's creative legacy with proceeds given to breast cancer research. The public is invited to peruse her oeuvre at http://bodner.sitetokeep.com/fine-art/paintings-new. For more information or for arranging a personal viewing with the curator, contact: Heidi Russell at heidi.womenartsalon@gmail.com.

# # #

CRITICS ARE INVITED to "That Queer Blind Silence" on or after August 9.