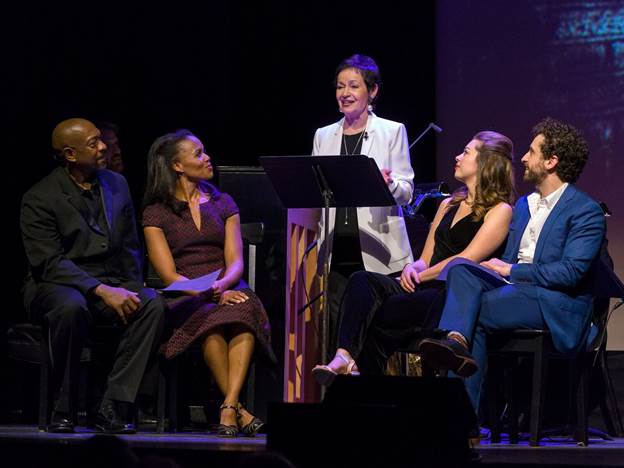 <![endif]>
Lynn Ahrens and cast
Lynn Ahrens: A Lyrical Life
by Deirdre Donovan
Lynn Ahrens brought an exciting mix of chutzpah and charm to "Lynn Ahrens: A Lyrical Life," the latest offering of the 92nd Street Y's "Lyrics & Lyricists" series. Ahrens set precedent in the L & L series by wearing the hats of both lyricist and host. But wear them she did with style and verve, and held the audience in thrall for two hours at Kaufmann Concert Hall.
<![if !vml]>
<![endif]>
Brandon Uranowitz, David Harris, Alton Fitzgerald White, Nikki Renee Daniels, Broadway and theater veterans Nikki Renee Daniels, David Harris, photos by Richard Termine
Joined by Broadway and theater veterans Nikki Renee Daniels, David Harris, Margo Seibert, Brandon Uranowitz, and Alton Fitzgerald White, and a five-piece band on stage, Ahrens discretely stepped in and out of the spotlight to allow the artists to deliver their various musical numbers during the performance.
Smartly dressed in a white blazer and slacks, she joked with the audience that Ted Chapin, the producer of L& L, was the one to "wheedle" her out of the back row of a theater and place her into the spotlight at the 92 Y. Ahrens, smiling like the Cheshire Cat, seemed tickled with the honor all the same.
Ahrens confessed to the audience that she has a caricatured drawing of Dorothy Parker coming out of the men's room in her office. She said that the caricature always reminds her that she is a woman in a male-dominated field. She also noted that lyricists hold only a "small corner" of Broadway, and that she, as a woman, holds an even slimmer corner.
Some of the most charming numbers in the program weren't the best known, but the hidden gems, in her catalog. For instance, the opening number, sung by the company, was the titular song from The Glorious Ones. Theatergoers who remember the song, and the 2007 Off Broadway musical (it garnered Drama Desk and Outer Critic Circle nominations) that launched it, were treated once again to a bit of commedia dell'arte mixed in with American flavor.
Following on its heels was the signature song "Journey to the Past" from the film and musical Anastasia. The audience leaned in as Ahrens lovingly retraced its showbiz history. Yes, it was nominated for an Academy Award for Best Original Song, and memorably sung by the R & B singer Aaliyah at the live Awards ceremony. And, yes, the song's popularity has been boosted by the current film-to-stage adaptation at the Broadhurst Theatre. Ahrens proudly shared with the audience that Anastasia just celebrated its first year anniversary on Broadway . . .and then she invited us to listen to its most famous song as Margo Seibert freshly delivered it at the 92nd Street Y.
Besides Anastasia, Ahrens has her artistic signature on another musical running on Broadway: Once on this Island. And the song "Waiting for Life" from the the musical gave the audience a delicious taste of the tropical fairytale. Sung movingly by Nikki Renee Daniels and the company, Ahrens afterwards pointed out that the current nonconventional staging of Once on This Island proves that works can be re-interpreted differently over the years to reflect their cultural times.
The program was embellished with anecdotes from Ahren's personal and public life, some that were accompanied with projections of old family photos or pertinent cultural artifacts. We listened as Ahrens reminisced about how she was an advertising copywriter for 7 years and that during lunch time she would play her guitar and write songs. Her lunch-time music piqued the interest of one of the executives, who asked her if she wanted to work on a new project called Schoolhouse Rock. The young Ahrens gave it a go—and she soon was regularly submitting work for the project. Ahrens wrote jingles, in fact, for children's television, the long-running TV show Captain Kangaroo, and advertisements. In fact, she was the voice and the writer for the Klondike bar (What would you do for a Klondike bar?), which landed her into popular culture forever.
Everybody perked up their ears when Ahrens explained how she met her life-long artistic partner, Stephen Flaherty at the famous Lehman Engel BMI Musical Theater Workshop in 1983. They immediately hit it off and began working on various songwriting projects. Their first musical farce Lucky Stiff was staged at Playwrights Horizons in 1988. As a nod to old times, Ahrens treated the audience to one of its songs, "Times Like This," sung by Daniels.
The program didn't follow a strict chronological order. But it gained texture with its menagerie of songs covering 3 decades. The selections included "Never Really Knew the Guy" from the unproduced Bedazzled, two selections from A Man of No Importance ("First Rehearsal" and "Streets of Dublin"), and single offerings from both Rocky ("In the Ring") and My Favorite Year ("Larger Than Life").
<![if !vml]>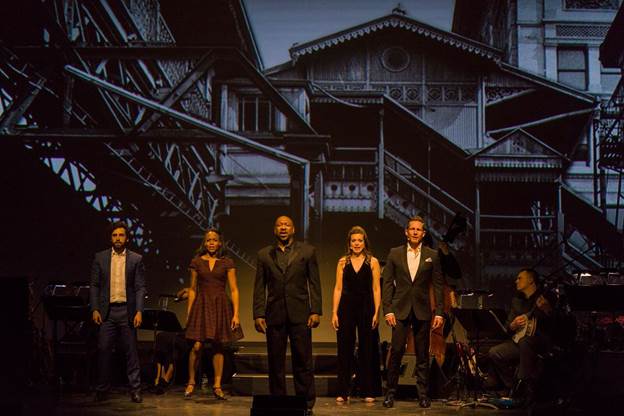 <![endif]>
"The Ragtime Medley," of course, ratcheted up the energy on stage and got the audience tapping their feet to four popular songs from the show: "Ragtime," "New Music," "Gliding," and "Make Them Hear You." This was real Americana . Little wonder Ahrens and Flaherty both won the Tony Award for Best Score for the original Broadway staging of Ragtime in 1997.
Things didn't always go so rosy, however. Ahrens pointed out that Seussical was their ill-fated musical. We listened as Ahrens recounted her memories of the out-of-town tryouts in Boston in late August and September 2000. No, she didn't point her finger at the local newspaper critics but the online "chat rooms." It seemed that every Jack and Jill had a brickbat and were posting what was wrong with Seussical. Even though Ahrens and Flaherty revamped it for its Broadway opening a month later, it was already overexposed and underappreciated. That said, the three selections on the program from Seussical --"Green Eggs and Ham," "Alone in the Universe," and "How Lucky You Are"—turned out to be enormous fun and coaxed sincere smiles from the audience.
A "chameleon" lyricist, she explained to the audience that when she takes on a project she researches it until she is totally steeped in its elements. And, then, if she is doing her job right, and follows her artistic instincts, she should be "invisible" to viewers and listeners by the time her lyrical work is presented.
No question other L & L programs this season have been awash with talent. But "Lynn Ahrens: A Lyrical Life," as directed by Jason Danieley, was something special. The audience got to see, and listen to, Ahrens and company on stage in full living color.
Lynn Ahrens: A Lyrical Life, performed on May 5, 6, & 7th.
The 92nd Street Y, located at 1395 Lexington Avenue (between 91stand 92nd Street.
For more information on the Lyrics & Lyricists series, call 212-415-5500 or go to www.92Y.org/lyrics.
Running time of performance on May 7th: 2 hours with one intermission.
92Y'S LYRICS & LYRICISTS™
Presents
FRANK LOESSER: LYRICIST
David Loud, Artistic Director & Host
Luis Perez, Director
Ted Chapin, Producer
Featuring:
Farah Alvin ● Lewis Cleale ● Laura Darrell ● Samantha Massell ● James Snyder
Saturday, June 2 / 8 pm
Sunday, June 3 / 2 pm + 7 pm
Monday, June 4 / 2 pm + 7:30 pm
Tickets from $65 (35 & Under tickets, $30)