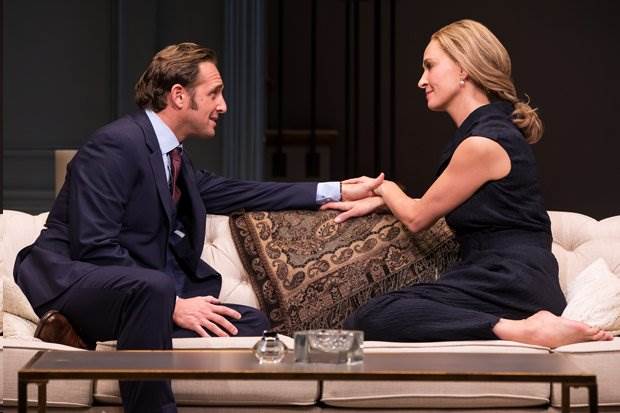 Josh Lucas and Uma Thurman                                  (© Matthew Murphy)
                                          By Ron Cohen
In its first moments, The Parisian Woman sets up a rather familiar laugh. A man, presumably a jealous husband, is insistently questioning a woman, presumably his wife, about suspected infidelities. She says things like; "Once you stop trusting me, what do we have left?" And after several moments of this, who should walk into the room, but the woman's husband!

Uma Thurman plays Chloe, Josh Lucas plays Tom, and Marton Csokas plays Peter
This humdinger of a thigh-slapper is fair warning that a lot of what you are about to see and hear Is going to ignite a lot of déjà vu. Even though it's set in contemporary Washington, DC., what Beau Willimon has written is a drawing-room comedy (perhaps dramedy's more accurate) of the old school, where emotion and plot are intriguing if not quite real, with all the elements inherent in that genre falling right into place. They include the vivacious heroine, her passionate lovers, and at least one crusty old dame to spout laugh lines. After all, the play is inspired by an 1885 comedy by French playwright Henri Becques, La Parisienne, which in its time was quite scandalous.
On the plus side, however, Willimon lards his romantic twists and turns with a lot of political savvy, including jocular references to the current administration, giving the script a contemporary edge. Willimon knows his politics; he is the creator of Netflix's House of Cards. (You know it; it's the show that used to star Kevin Spacey.)
Furthermore, The Parisienne Woman provides a role to bring Hollywood siren, Uma Thurman, to Broadway after her single New York stage try in 1999 in Moliere's The Misanthrope at Classic Stage Company Off-Broadway. Her presence almost supplies enough sense of glamour to the proscenium to justify the Broadway ticket prices.
Thurman plays Chloe, enjoying her open and loving marriage to Tom, a highly successful Washington tax attorney, and along with it, a privileged life of "pleasure and beauty." When Tom becomes a possible nominee for an important court of appeals judgeship – a job he passionately wants, a position 'that could make a real difference,"  Chloe does everything she can to assure the nomination. It eventually includes giving up a secret love that affects her deeply, one whose existence she has never shared with Tom. But at the final curtain, she is ready to carry on, even at the cost of withholding truth.
Thurman is an eye-filling, photo-shoot-ready apparition in Jane Greenwood's smart costuming, from white shirt and jeans to a soft, tastefully grey dinner gown. Under Pam MacKinnon's rather middling direction, the acting isn't quite as assured. The jocularity seems forced in the play's larkier moments. She seems more certain and is more convincing when things turn a bit serious. She may not elevate Willimon's writing, but she rarely denigrates it.
She receives nice support from Josh Lucas as her husband Tom, endowing the character with a sort of easy-going Kirk Douglas machismo (if such a thing is possible.) However, Martin Csokas as Chloe's ever-jealous, on-the-side lover, who is also a big political contributor, could use a little more variety, as he goes from desperate to enraged and back again.

Uma Thurman, Blair Brown, and Phillipa Soo
Blair Brown in smartly standard fashion embodies Jessica Simpson, an influential Washington woman who's now the nominee for chairmanship of the Federal Reserve Bank. She delivers her repertoire of political wisdoms and ironic observations with aplomb, with little hint that they've been said before.
Completing the cast is Phillipa Soo, quite appealing and credible as Jessica's left-leaning, politically ambitious young daughter, who plays an unsuspected role in Chloe's behind-the-scenes machinations to get her husband the judgeship nomination.
If you're wondering about the title, Chloe as a young woman had a long and hot affair in Paris with a young denizen of the city she followed home after meeting him at New York University. It shaped the way she looks at life. When he cheated on her, she left him, but over time she began "to understand how you could love with someone with all your heart and still have other lovers." Her husband still teases her about it, Chloe tells Jessica: "Calls me his Parisian woman."
Now that your curiosity is settled on that score, you can enjoy the additional eye candy that graces the proceedings: the set designs of Derek McLane. They go from the swanky living room of Chloe and Tom's DC townhouse to the terrace of Jessica's mansion and a luxurious nook in a Washington hotel restaurant. Between scenes, a scene curtain lights up with current political headlines, reminding us that the play is taking place in the present time.
In short, a lot of The Parisian Woman may be old hat, but like an old chapeau it still has its chic.
Broadway play
Playing at the Hudson Theatre
141 West 44th Street
855 801 5876
Playing until March 11