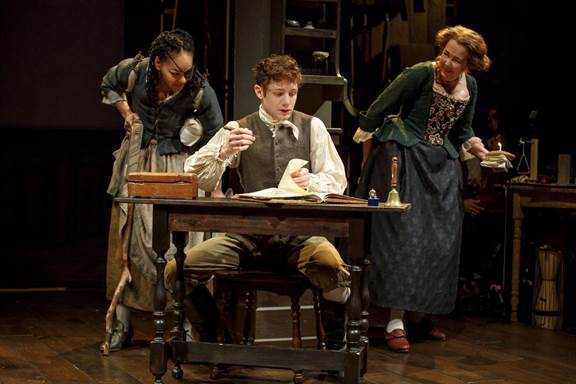 Crystal A. Dickinson, Chris Perfetti and Harriet Harris in "The Low Road."
                       By Eugene Paul
A romping riot for the senses as well as your brain.
A furtive, hulking brute (marvelous Kevin Chamberlin) leaves a baby in a basket on the familiar doorstep of Mrs. Prewitt (even more marvelous Harriet Harris) whose brothel is a fixture in this thriving town in 1759 Connecticut. There's a little note tucked in. It's signed.  G. Washington, Virginia. Which precipitates cascades of gold coins in her imagination.  Clearly, we are requiring the necessity of a guide. Do we take the high road or the low road?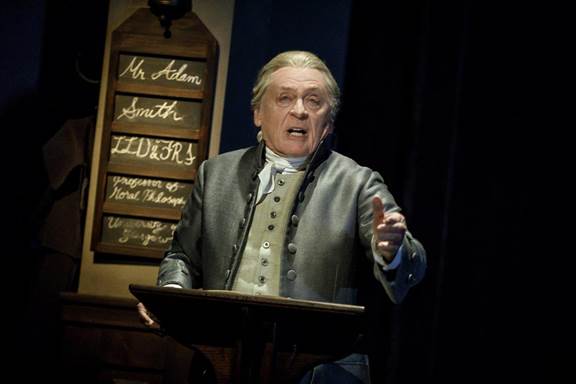 Daniel Davis narrates as economist and "Weatlth of Nations" author Adam Smith.
And what better guide for us than the Great Scot himself, Adam Smith, both inside the action of the play and outside our careening chronicle (superbly sardonic Daniel Davis) who, some years later, needing shelter for the night, finds himself in Mrs. Prewitt's friendly establishment, where young Jim –now Prewitt-- lives, that same babe with the Washington note which gave Mrs. Prewitt's heart an extra, calculating flutter. A young man with the true American avarice in his bones, Jim Prewitt, (brilliant Chris Perfetti) has the light turned on in his calculating head by reading Smith's accidentally purloined notes. Director Michael Greif's smashing production of deeply angry playwright Bruce Norris's swashbuckling assault on everything is well and truly under weigh.
Chukwudi Iwuji, Chris Perfetti                     photos by Joan Marcus
And with the rich torrent of eighteen actors playing forty-nine roles, crackling Bruce Norris's laughing diatribe runs its picaresque course. Young Jim Prewitt's innovative calculating skills having put Mrs. Prewitt's girls' skills on a more efficient basis, takes off with the moneys he's earned them to make his own way in the world and on his adventure into the high life, he buys himself a slave (splendid  Chukwudi Iwuji), a status item.  This proves most educational: John Blanke, the slave, far more educated than Jim, strips Jim naked at gun point and takes off with every stitch. Or so he intends but a masked highwayman chains the two of them together and in turn scoops up all their belongings. At which point a blind pastor (winning Max Baker) happening upon them, takes them in his pastoral care. Where Jim discovers that the highwayman who robbed him is Constance (splendid Susannah Perkins.) the faithful, loving, dutiful daughter of the kindly if laughable, pastor.
Well and a day, it goes on like this, a romping riot for the senses as well as your brain, shootings, corpses,  every swiftly, deliciously executed change integrated into the flow of action and all richly outfitted , wigged to shoon, costumes and finery – and rags -- by Emily Rebholz, hair and faces by J.Jared Jamas and Dave Bova, in swiftly sentient settings by David Korins, lit with wit by Ben Stanton, accompanied by violinist Josh Henderson right through to  the  cliff hanger first act curtain.  Hmm.  No curtain.  Blackout?  Yes. Young Jim Prewitt is about to be executed by a firing squad of Hessians.  Shades of Barry Lyndon and Tom Jones.
But, hah! Act two is 21st century!  A panel of  incredibly rich experts, one of whom is a descendant of Jim Prewitt in case you were worried, chaired by even richer Belinda (again, fantastic Harriet Harris), whose foundation has underwritten this beneficence to betterment of us and our  understanding through the immediate wonders of the televisioned world. They are trashed by rebels! And the ensuing chaos is blinding! Until Adam Smith comes to the rescue and tries to put us back on track, in the 18th century, at the execution of  Jim Prewitt, now being adjudicated.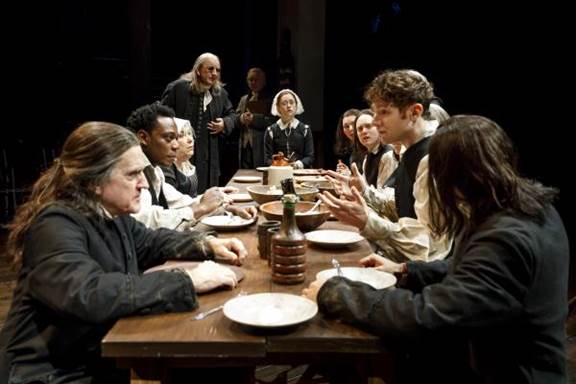 But playwright Norris, still full of rage, -- he wrote this play in heat   for the Royal Court ten years ago -- cannot contain himself. He vents scalding scorn on us, on his characters, on himself, on the theater as weak, ineffectual slaves to the injustice and inequality running our lives. He introduces huge, off worldly creatures resembling giant bees that inspect our world and reject it and us for what we have done with it and what we have done with ourselves. And you know he's right. Bleeding hearts, take note.
Despite his fire for what he feels is not enough of us feeling like rage and doing something about it, I have to say in addition to those wonderful players previously mentioned, I deeply admired marvelous Crystal. A Dickenson in all her guises, Gopal Divan for five characterizations, Tessa Albertson, Richard Poe, David Quay. Yes, Bruce, you rock, your work means something.  Get wilder.
The Low Road. At the Public Theater, 425 Lafayette Street. Tickets: $75. 212-967-7555. 2 hrs 35 min thru Apr 1.
It beats you over the head but I wouldn't have missed it.