Jessie Cannizzaro, Zac Moon, James Fouhey, Stephen Stout, (Back row) Madeleine Bundy, Langston Belton, Andy Miller, Eleanor Philips (L-R) [Photo Credit: Hunter Canning]
††††††††††††††††† by Edward Medina
An owl has arrived to deliver a message to a young boy. The lucky recipient of this owlgram has been accepted into a little known world renowned school of magic. He is to be taken from his humdrum life and set upon a new course and the magical adventure of his life. The catch is that this is not merry old England and this is not the boy legend in the making Harry Potter. This is New Mexico in the good old US of A and the boy is an awkward, and not that much of a gifted wizard to be, named Wayne. Nonetheless, Wayne is whisked off to England to experience Ďseven increasingly eventful years at a certain school of magic and magicí just like the infamous Harry.
While Harry does make occasional appearances in this tale this story belongs to Wayne and all his fellow Puffs, the magical house heís sorted into for his time at the school. This is a mirror world of the Potter books and if you donít know them you will have some problems catching all the jokes in this very clever, fast paced, hysterically funny farce. While elements of the books play out in the periphery, this version is all about the Puffs and their mutual adventures of just getting through school and dealing with all the mayhem that Harry creates in his wake. The Puffs are endearing misfits but they know it and that always seems to empower them forward through their mutual endeavors.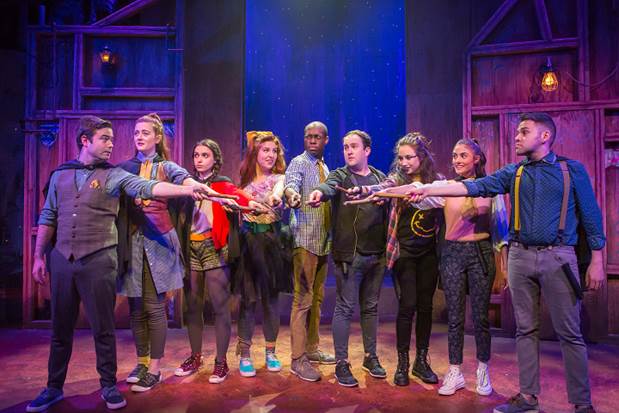 Stephen Stout, Eleanor Philips, Madeleine Bundy, Andy Miller, Langston Belton, Zac Moon, Julie Ann Earls, Jessie Cannizzaro, Nick Carrillo(L-R) [Photo Credit: Hunter Canning]
The ensemble cast is exactly that in every sense of the word. They are frenetic poetry in zany motion and to lose any one of these skillful cartoon treasures would be to collapse this magical schoolís house of cards. In total the company of thirteen players portray fifty three characters and features the talents of Langston Belton, Madeleine Bundy, Jessie Cannizzaro, Nick Carrillo, Anna Dart, A.J. Ditty, Julie Ann Earls, James Fouhey, Jake Keefe, Andy Miller, Zac Moon, Eleanor Philips and Stephen Stout.
The design work on this production is clever to the max with every department delivering excellence. Madeleine Bundyís set, costume, and prop designs are at the center of it all. Her set gives the reigning Broadway work of The Play That Goes Wrong a run for its money. Itís backstage reverse world look and feel serves as the visual foundation in this frenzied world. Her hodgepodge of costumes is in all actuality a well-organized balance of quick change mastery that fits well within the mania and lets the audience keep track of the many characters and their houses as they fly by.
Itís writer Matt Coxís book of secrets that drives this glorious insanity. His work reveals a true and genuine love of the parodied Potter source material. He provides not only comedic reverence to the proceedings but also isnít at all afraid to skewer its revered cannon with right-on-the-mark pokes at its fabled facade. Cox has scripted an intermissionless one hour and forty five minute speeding magical locomotive that makes for a wild and wonderful ride.
One would think that a show and a cast that moves this quickly and delivers this many punch lines per second would be allowed to run amok to achieve those goals. That thinking would be incorrect. Thereís a slow and steady hand at the helm of this madness that makes it all work and it belongs to director, Kristin McCarthy Parker. Reigning in all that creative energy and then knowing exactly when to unleash it is no simple task and her skill is to be admired.
Tilted Windmills Theatricals and producers John Arthur Pinckard and David Carpenter are to be commended here as well. They took great steps to protect, package, and promote this gem of a production in such a way that allowed it to be found by its adoring audience. They knew what they had and nurtured it wisely. Puffs began at the Peoples Improv Theater, where it gained its first momentum, before moving to the Elektra Theater where continued critical acclaim brought it to its current home at Stage 5 at New World Stages.
Puffs has broken two New World Stages box office records to date and is well on its way to break others as it repeatedly plays to sold out houses. It is primarily word of mouth support from its loyal and growing fan base that drives this well-deserved success. With Harry Potter and the Cursed Child opening shortly itís easy to see how Puffs may just become a permanent fixture on the New York theatre scene as scores of fans flood into the city from all over the world to catch two of the hottest wizarding tickets within reach.
New World Stages
Stage 5
340 West 50th Street
New York, NY 10019
212.239.6200
$52-$97
Now Playing Through Nov 4, 2018