Ben Caplan and Mary Fay Coady                                                            Photo by Stoo Metz Photography
                                                        By Marc Miller
There's something about musicals about immigrants: Even when they're not very good, they're kind of great. Those are the heritages of most of us up on that stage, and the emotions are so big and so singable, and of course the conflicts and prejudices of 100-plus years ago are being newly played out in our current messed-up world. All American, a 1962 misfire, nevertheless opened with a chorus of Ellis Island would-be members of the melting pot fetchingly pleading, "Melt Us." Ragtime, to these eyes the last great musical to date, wrenchingly spelled out the hardships faced by new Americans at the turn of the 20th century. So did Rags, if not for long.
You'll have to bring all the immigration-musical goodwill you can muster, though, to Old Stock, a kind of klezmer-cabaret-musical-hybrid occupying Stage A at 59E59. It's disorganized, sloppy, and rude, but underneath the winking and needless asides is an affecting narrative about Romanian refugees Chaim (Chris Weatherstone) and Chaya (Mary Fay Coady), who meet cute in Halifax and try to build a life together in Montreal; if nothing else, Old Stock is a valuable reminder that immigrant musicals don't have to happen in Harlem or on the Lower East Side. He's the only one of his large family to survive a pogrom, she's a young widow who lost her husband and infant son on the road out of Russia, and they're the only characters, except for an inert bundle in a blanket playing their eventual baby.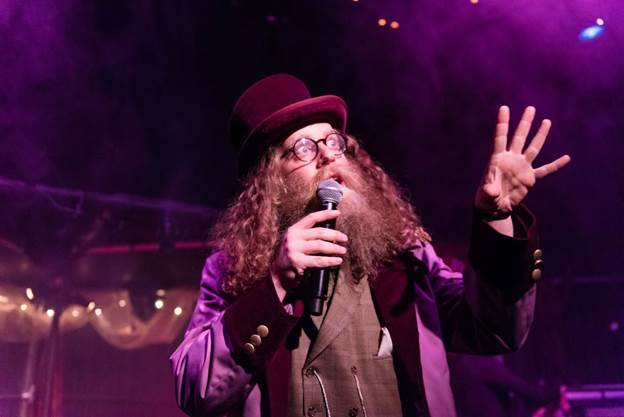 And except, that is, for the Wanderer (Ben Caplan, who also wrote the songs with Christian Barry, who also directs). He's a sort of impish Jewish oversize leprechaun who first pops out of the top of Barry's and Louisa Adamson's tidy shipping container of a set, which opens to reveal what will be Chaim and Chaya's little apartment, and a klezmer band behind it (Graham Scott on keyboard and accordion, Jamie Kronick on percussion). The Wanderer narrates and comments and runs up into the audience, goading us to react more loudly and clap in rhythm—don't you hate that? And he does practically all the singing, in a strong, reedy voice that's unfortunately often too close to the mic. The sound design, which is uncredited (Jordan Palmer is listed as "sound operator"), is of the sort that blasts everything, to the point where when two voices are in counterpoint, you can't understand a word.
Not that you'd necessarily want to, as the lyrics tend not to rhyme, and to be about things other than what Chaim and Chaya are experiencing. The Wanderer kvetches about having some sort of "Traveler's Curse," touches on some marginally relevant refugee issues in "You've Arrived," and has a cheerful number called "Truth Doesn't Live in a Book" that isn't about anything. There's another about how men's love lives are affected by their chosen professions, one about how "The world belongs to those who plough the (expletive deleted)," a scene-setting one for a quiet interval with Chaya, and "Fledgling," a pretty parable about a mama bird and her children, whose relevance to the narrative is beyond me. The Wanderer, in short, is mostly a distracting presence, and has a filthy mouth—no crime in itself, but all his cursing feels irrelevant and inappropriate to our quiet little suffering pair.
Besides Chaim and Chaya, Weatherstone and Coady play woodwinds and violin, respectively, and they guide us persuasively through this young couple's conflicts and struggles. He doesn't know how to handle a woman, she's still in love with her dead husband, and you'll be glad to know that what looks like an unpromising marriage survives illnesses, her moodiness, their age difference, and pointless interruptions from the Wanderer. But we don't get any feel for how they interacted with the rest of their small world. Hannah Moscovitch based her script on her own family, and the feelings really do well up at the end, as we learn how fruitfully Chaim and Chaya multiplied and get glimpses of them aging and managing the kids. But their emotions are so song-ready, why don't they sing them, instead of the Wanderer wandering in with another irrelevance?
The melodies, mostly in those Jewish minor keys we expect of this subject matter, are often appealing, and so is Adamson's and Barry's warm, intimate lighting, heavy on picture-frame spotlights of Chaim or Chaya. There's a touching story waiting to be told here, one of hardships faced and met and strengthened love and triumph over an unimaginably sad past. But it needs something beyond a setup of snarky Wanderer monologue, small Chaim-Chaya scene, out-of-left-field cabaret song, another scene, more Wanderer narration. The authors might look to the neatness and emotional ballast of, say, Fiddler on the Roof. Now there was an immigrant musical…
Through April 22nd.
At 59E59 Theaters, 59 E. 59th St., Manhattan.
For tickets and more information, phone (212) 279-4200 or www.ticketcentral.com
Running time: 1 hour; 25 minutes with no intermission.