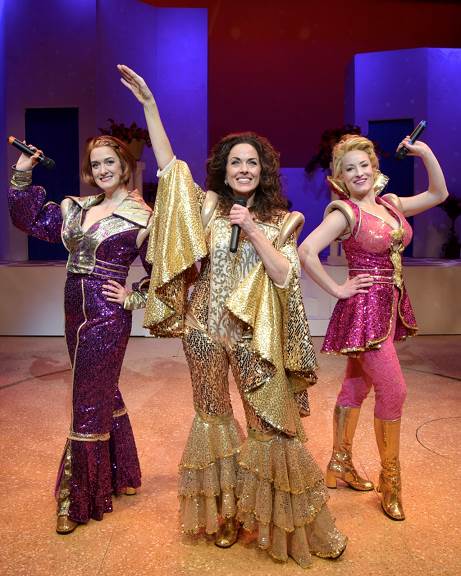 Jennifer Swiderski, (as Rosie) Michelle Dawson as Donna Sheridan) and Elise Kinnon (as Tanya)
                                         By Ed Lieberman
After a string of smaller productions (The Bikinis; Christmas Inn;  Million Dollar Quartet; Always, Patsy Cline), WBT restarts its 2017 season with its 200th production: Mamma Mia!, a musical based on the songs of ABBA, who have sold more records than anyone other than the Beatles.
Although this is technically a jukebox musical, (based upon previously recorded material), what sets Mamma Mia! apart is that the story is much more than just a few lines to connect the music; here, a conscious effort was made by book writer Catherine Johnson "to get the story and the songs to work together."
The result is a charming, innocent story about a girl, Sophie, raised by a single mother, Donna, on a Greek island seeking to have her father walk her down the aisle at her upcoming wedding to Sky, a local boy. The only problem is that fiercely independent Donna doesn't know who the father is, and has no interest in finding out or having him attend the wedding. She has raised Sophie by herself, after all. Sophie discovers her mother's diary and finds the names of three men with whom her mother could have conceived her, and invites all three to the wedding – without her mother's knowledge. When all three (Sam, an American architect; Harry, a British banker; and Bill, an Australian writer and adventurer) show up, Donna refuses to engage with them, especially with Sam, whom she loved back in the day, but who left her to marry someone else back home. In a convenient plot device, Donna is a former lead singer of a rock group, Donna and the Dynamos, and her backup singers and friends, Tanya and Rosie, have also flown in for the wedding, as have Sophie's best friends, Ali and Lisa.
One can easily see the plot twists that ensue, except that, as noted, the story does elevate itself above typical jukebox fare with some genuine emotional moments, such as Donna's feelings concerning the impending separation from her daughter as she helps Sophie get into her wedding dress ("Slipping Through My Fingers"), and Donna's show-stopping "The Winner Takes it All," when she finally expresses her anger at Sam for having broken her heart years 20 years earlier. There is a twist ending of sorts, which will not be disclosed here, other than to say that, as in most musicals, "all's well that ends well" -- and with all that ABBA music, all's well does end well, with a post-show mini-concert sing-along!
It should be stated plainly at the outset: This production is Broadway worthy, both on and backstage. There is not a weak link in the show.

front: Mariah MacFarlane (as Sophie) back: Xander Chauncey (as Sam Carmichael), Kilty Reidy (as Harry) and Brent Bateman (as Bill)
First, as with every show, is the cast. Led by WBT veterans Michelle Dawson (Candy in last fall's Saturday Night Fever) as Donna and Xander Chauncey (Godspell; Titanic; Jekyll and Hyde) as Sam, and newcomer Mariah MacFarlane, as bride-to-be Sophie, the production is in good hands. There is great chemistry between the three leads, and great harmony and emotion, as well. Other standouts include Elise Kinnon and Jennifer Swiderski, as Donna's friends and backup Dynamos; Brent Bateman and another WBT veteran Kilty Reidy, as potential dads Bill and Harry; Nathan Cockroft, as Sophie's fiance Sky, and Sydney Patrick as Ali. Indeed, to those who remember the movie (which, to this viewer, should have ended the career of Pierce Brosnan), these actors far outshine their counterparts in the film version, especially Mr. Chauncey, who has a strong singing voice and acquitted himself very well in his duets with Ms. Dawson's Donna. That said, the entire cast deserve kudos, both for their voices, their enthusiasm and, especially, their acrobatic dancing, featuring gymnastic somersaults and even a chorus line in flippers! The exceptional ensemble is made up of DeShawn Bowens, Brian Dillon, Brett-Marco Glauser, Alicia Hemann, Lily Lewis, Bailey Purvis, Tanner James Rampton, Charity VanTassel, Kyle White and Cameron Anika Hill, who plays Sophie's friend Lisa.
The production is equally blessed backstage.  Mark Martino has done a masterful job directing and choreographing this young, energetic cast, ably abetted by Elise Kinnon, as Associate Director and Choreographer (who also plays Tanya, one of the Dynamos). This is their first production at the WBT and It is especially fun to experience the acrobatics close up in the dinner theater setting of the WBT. The set design and lighting by WBT regulars Steve Loftus and Andrew Gmoser, respectively, convey the ambiance of an informal Greek island setting, as well as the frenetic rock concert-like encore. Eric Alsford, Musical Director struck the fine balance between playing up the ABBA score and not overpowering the voices. In some numbers, he supplemented the onstage actors with offstage voices.  Last but certainly not least (and notwithstanding the fact that the male half of the ensemble spent at least half the show topless) were the costumes, designed by Jeff Hendry and coordinated by Matthew Hemesath, bringing back the gaudy disco-like outfits of the '70's that were in vogue when ABBA was reigning on the airwaves and concert halls.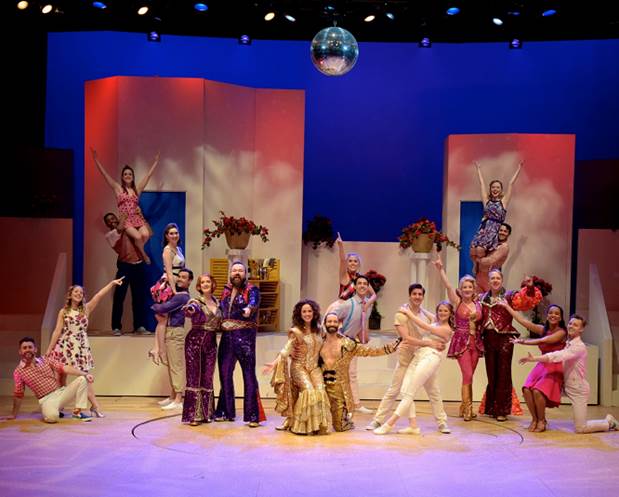 Photos by John Vecchiolla
Mamma Mia! opened in 2001 and ran for 14 years, featuring the hits of ABBA, including  "Dancing Queen," "Super Trouper," "SOS," "Take a Chance on Me," and, of course, the title song, "Mamma Mia!". This production exposes the limitations of regional theater as compared with Broadway: the limited run. This production -- this cast -- deserve an open run! If granted one, it could run as long as the original did on Broadway! Too bad it's too soon for a revival!
Mamma Mia! will run through June 25th 2017 at WBT, One Broadway Plaza, Elmsford, NY (914)