Clive Owen and Jin Ha†††††††††††††† †(Copyright Matthew Murphy)
††††††††††††††††††††††††††††††† By Edward Medina
Thereís a prison cell on stage at the Cort Theatre. Itís occupied by a single prisoner. The man in the box is a civil servant convicted of betraying his government. Heís been imprisoned mind, body, and soul along with the remembrances of the circumstances that caused him to be locked away. He fell in love with an enigmatic opera singer and he fell for the trap she set for him. Love is the key that locked him away. The cell is in Paris and the year is 1986.
Clive Owen
This is the true story of an affair and an incident that began during the turbulent sixties. Rene Gallimard was a married low-level French diplomat stationed in China who fell in love with Song Liling, an enigmatic Beijing opera singer. His two decades old affair of the heart was blind to the political intrigues and the vagaries of espionage that surrounded his desires. China was a changing political hotbed filled with foreign devils wanting fantasy women. Gallimardís fantasy woman was just that, a fantasy. He believed her to be a woman when she was in fact a man.
While it was not unusual at the time for males to portray females in the Chinese opera, the diplomat goes out of his way to believe his lover is a woman and she uses that to her advantage. Her deceptions are deep and even involve spying for the Communist government. Despite warnings from his friend, suspicions from his wife, and the tacit prodding of his superiors, Gallimard falls for the deceptions that ultimately cause him to lose everything including a child that was never really his to begin with. The deceptions and delusions follow him through his trial and his imprisonment, and itís there in his cell, night after night, that he relives it all over and over again for his own torture, and our amusement.
M. Butterfly is a powerful play with theatrical provenance. The original production premiered on Broadway in 1988, ran for almost 800 performances, and won the Tony Award for Best Play. The venerable Puccini opera Madam Butterfly plays a role here as well. Itís arias and music frames a great deal of the drama. However, itís the cinematic quality of this production that truly sets it apart. Clive Owenís performance as Rene Gallimard is reminiscent of classic Hollywood actors like Clark Gable and Robert Mitchum but with a hollow core at his emotional center. In turn Jin Ha as Song Liling carries his, and herself, with the glamour and mystery of legendary ladies of the Chinese Cinema like Ruan Lingyu and Brigitte Lin but with the added cold steel of a film noir Barbara Stanwyck. The rest of the ensemble also provides solid performances while at the same time carrying out multiple roles.
The settings of scenic designer Paul Steinberg move fluidly from place to place like origami paper sculptures that fold and unfold. Screens as colorful art pieces, transforming into shadow boxes, glass walls, and architectural forms that provide both open space and solitary confinement. The original music and soundscapes composed by Elliot Goldenthal set the proper moods and tones of all these locations as does the exquisite work of lighting designer Donald Holder. The lush costumes of designer Constance Hoffman are beautiful whether they are the drab green wear of menacing soldiers or the decadence of Lilingís gowns and Ma Congís outstanding choreography delivers in a multitude of styles as well. The world of M. Butterfly is a fully realized world and all these artists have given it a fluid and very visual life.
This piece of theatrical performance art has one visionary at its core. That creative eye belongs to director Julie Taymor. Her hand can be seen and felt everywhere in M. Butterfly. Her experience in theater, opera, and film all combine into a strong creative vision that coalesces each form into one outstanding piece of work. She is currently represented on Broadway by the grandeur of The Lion King, sheís most known in some circles for the nightmare that was Spiderman: Turn Off the Dark, but here her work is reminiscent of the boldness of her earlier directing choices like Juan Darien: A Carnival Mass. You are just not going to find a director more willing to take an artistic risk on the American stage than Julie Taymor and here the all risks pay off.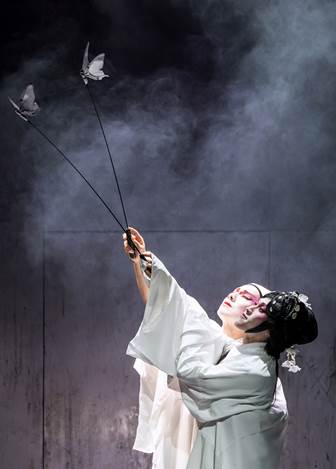 M. Butterfly shows no signs of aging. Playwright David Henry Hwang has made some changes to his masterwork but they only serve to amplify the already clear themes of the original, and to clarify some of the facts of the actual events. Arguments can, will, and have been made as to the necessity, both good and bad, of those changes. Just like his first incarnation, time will tell.† As for the obvious, one would think that the gender bending twist of M. Butterfly would have lost some of its impact some thirty years later. The opposite proves to be true. In this day and age gender identification is front and center in our national mind set. Though it may be the focus of a great deal of the current body politic, in the new M. Butterfly the issue tugs at the heart strings and serves more of an emotional punch than a shocking blow to the mind. Perhaps the well-deserved attention this revamped production inspires will help to broaden the scope of our collective psyche.
The Cort Theatre
138 W 48th St
New York, NY 10036
$39 - $139
(212) 239-6200
Oct 7 Ė Feb 25, 2018