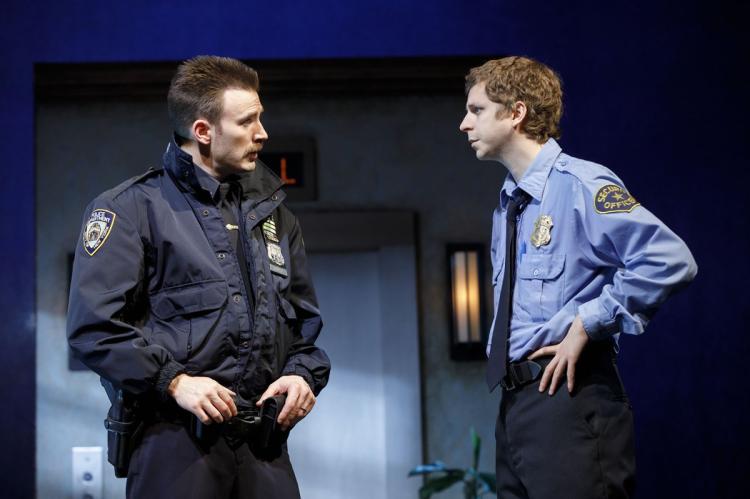 Bill (Chris), one of New York's not-so-finest, and Jeff (Michael Cera), a high-rise security guard, don't see eye-to-eye in "Lobby Hero."
(JOAN MARCUS)
                  By Marc Miller
First, the theater. The Helen Hayes has been acquired by Second Stage, somehow lost the Helen, and undergone a needed renovation. The Hayes, at 597 seats Broadway's smallest house, was always cozy, but also always musty. Now it has plush burgundy seats, royal blue walls embroidered with classic figures, and more legroom than some larger houses. It's spiffy and well-proportioned, and about all it lacks is a real lobby.
But there's one onstage, as its initial tenant is Lobby Hero, Kenneth Lonergan's 2001 comedy-drama, but mostly comedy. Lonergan, here as in This Is Our Youth and Manchester By the Sea and several other works, is focused on people who make bad decisions, and the consequences of those decisions. The lobby of the title, of a Manhattan apartment building, was designed by David Rockwell, and it's one of the least impressive sets of the Broadway season, a sparse space that pointlessly rotates during scene changes. But the four people who inhabit it—four and only four, as Lobby Hero takes place over the middle of several nights, when foot traffic in the lobby is scant—deserve our attention. They're spectacularly misguided, they embody much of what's wrong with American values, and above all, they're funny.
Chief among them is Jeff (Michael Cera), the security guard—what kind of apartment house this is, or why it would need a security guard, Lonergan isn't telling. In his late 20s, quick with a joke and charming when he has to be, he's nevertheless a lost puppy dog of a guy. Dishonorably discharged from the Navy after being busted for marijuana, he's rootless, escaping the memory of a strict and uncommunicative father, living uncomfortably with his brother in Queens, and as awkward with women as he is horny. It's lonely, undemanding work, and about the only diversion he can look forward to is the occasional nighttime visit from…
William (Brian Tyree Henry), his boss, black, officious, articulate, and conflicted. A family man and play-by-the-rules sort of guy, he hired Jeff to help him get his life restarted and has benevolent human impulses, but isn't past deceit or corruption when cornered. Which he is now, as his worthless brother has just possibly, no probably, committed a terrible crime and asked him to help cover it up. Here's where Lonergan asks the evening's key question, one we'd like to ask a lot of government officials right now: Which is more important, honesty or loyalty? William is leaning toward the latter, and may get some assistance from…
Bill (Chris Evans), the handsome, egomaniac cop on Jeff's beat. Married but a serial adulterer, and a tough talker, he plays by the unwritten and impure NYPD rules, where one protects one's own, even if it means evasion or outright lying. Which is why he's buttering up and flirting with…
Dawn (Bel Powley), his neophyte partner, an insecure trainee and the object of Jeff's considerable sexual fantasies. She's in trouble for having just beat up a perp, and not indifferent to Bill's overtures, until Jeff tells her Bill's been boffing a tenant upstairs.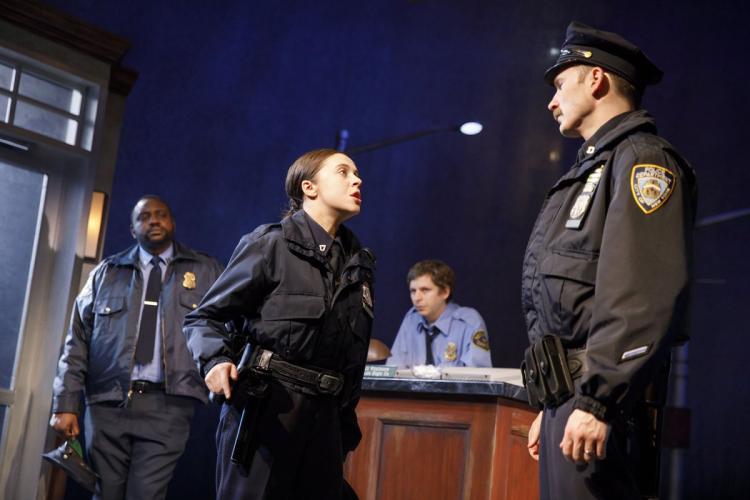 The play's cast, from left, Brian Tyree Henry, Bel Powley, Michael Cera and Chris Evan are a fine-tuned ensemble under the direction of Trip Cullman.
(JOAN MARCUS)
So, you see, it's a full plate. And Lonergan's dialog, while it reads straightforwardly on paper, often plays hilariously, because the relationships among these four are so twisted yet true. These characters keep making character feints we didn't anticipate, but they feel logical when they happen. They dodge or initiate confrontations when we least expect, up the sarcasm to avoid revealing their true feelings, and turn on one another very quickly when threatened. A lot of dialog overlaps, Trip Cullman's direction varies the rhythms naturally and effectively, and he gives the actors character-fitting business. Just to watch Cera dig his hands in his pockets or scratch his back sums up Jeff's helplessness and aimlessness, and to watch Evans swagger and turn on a dime from nice guy to holy terror captures Bill in a way just the lines don't. Movie stars, both of them, but these aren't star turns. Henry's a superb William, though sound designer Darron L. West might turn his mic up a bit, and Powley's Dawn—she feels things deeply, articulates them inexpertly, and is the closest thing onstage to a moral conscience—fairly screams "blue-collar," and "outer-borough."
Some caveats: The play just ends, practically in midsentence and with much unresolved, though maybe that's Lonergan's way of saying, Life is like that. And there's a certain condescension around the edges: These people are blue-collar, his writing keeps reminding us, but he isn't. (This was also apparent in Manchester By the Sea.) But Lobby Hero remains a funny, disturbing look at how some people, in whom we frequently recognize ourselves, run away from the truth, comfort themselves with unreachable goals, and cross over too quickly into moral compromise when faced with unpleasant possibilities. It's a full, entertaining evening of conventional theater. And it's happening in a beautifully refurbished house. 
Through May 13, 2018
At the Hayes Theater, 240 W. 44th St., Manhattan.
For tickets, visit Telecharge.com or phone (212) 239-6200.
Running time: 2 hours 20 minutes with one intermission.