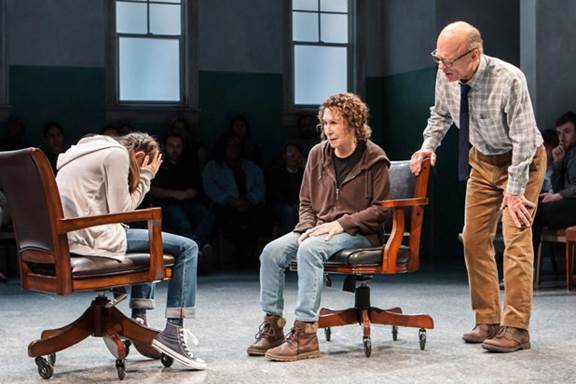 Rileigh McDonald, Rhea Perlman, Ed Harris                                Photo credit: Monique Carboni.
                                        by Arney Rosenblat


Inspired by psychotherapist's Richard O'Connor's book "Undoing Depression," Good for Otto is a sprawling monologue-driven foray into a spectrum of psychological, emotional, and social disorders plaguing "twenty-first century Americans in the land of plenty." Set in the fictional Northwood Mental Health Center near the Berkshire Mountains along the Mohegan River, the action shifts, sometimes smoothly, sometime not, between the realistic stories of the patients, their loved ones and their therapists and the often tortured memories or thoughts that underlie these stories.
The narrator/guide to this current Our Town is Dr. Robert Michaels, portrayed with frustrated determination and sincerity by Ed Harris, who is a therapist and chief administrator of the health center. His narrative weaves in and out between his efforts to help his patients, his collaboration with fellow therapist Evangeline Ryder, beautifully captured by Amy Madigan (Ed Harris' wife), and the inner workings of Dr. Michaels' mind as he tries to come to terms with the visitations of his dead mother's ghost. His mother, played with resounding angst by Charlotte Hope, had suffered from chronic depression and committed suicide when he was nine. He is also flanked by the administrative assistant Denise, portrayed as professionally as possible by Lily Gladstone in a part that needed to be better fleshed out.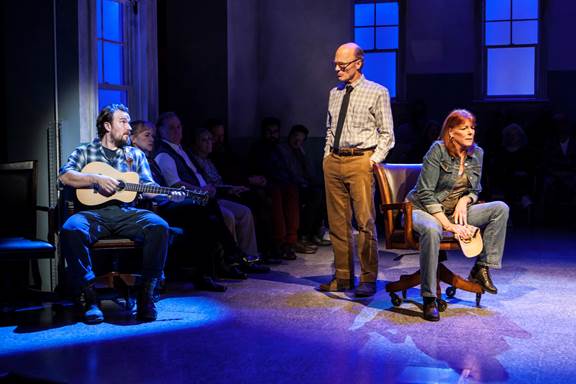 Michael Rabe, Ed Harris, Kate Buddeke
An odd, somewhat distracting, yet not unpleasant, overlay to Robert's narrative is his belief in the healing power of early 20th-century music. This leads to varied interludes throughout the evening of group sing-alongs of pieces such as "Let Me Call You Sweetheart," "Carolina in the Morning," and "On Moonlight Bay.".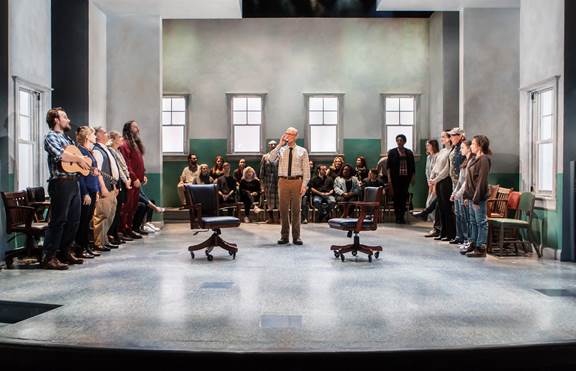 Harris leads a top-notch ensemble of thirteen other actors who help to unfold Raba's play. The bevies of patients with stories to share include Timothy, an endearing Mark-Linn Baker, who is a middle-aged man on the autism spectrum. He has come to Dr. Ryder for help with his social interaction challenges. His best friend is Otto, a hamster who is sick and needs surgery.
Then you've got Frannie, an abused fragile 12-year old now in foster care who cuts herself in response to the "big storms inside" her head. Rileigh McDonald's heart wrenching performance assists in substantiating Robert's quest to provide her with appropriate care that will keep her from falling into a bureaucratic mental health system black hole as he rails against Frannie's insurance case manager Marcie, played with perfect corporate coldness by Nancy Giles. Robert also attempts to provide comfort and support to Frannie's foster mother Nora, portrayed with touching frankness by Rhea Perlman, who becomes increasingly traumatized as she realizes her inability to cope with or aid her loving charge Frannie.
Amy Madigan, F. Murray Abraham
Another patient we meet along the way is Barnard, enlivened by F. Murray Abraham's finely nuanced performance, a well read retired businessman in his seventies, who has taken to his bed which exasperates his wife, effectively embodied by Laura Esterman. He is finally helped by both Evangeline and Robert to understand how unresolved childhood issues with his mother have dramatically colored his ability to function as his life draws to a close
One of the opening and most relevant of the patient stories in this gun violent age is Jane's sharing of her torment over her failure to recognize the seriousness of her son Jimmy's deepening depression which ultimately led to him shooting himself. Kate Buddeke as the mother and Michael Rabe (the playwright's son) as Jimmy give stellar performances in their roles, with the latter portraying the play's other ghost in his chilling matter-of-fact recounting of his suicide.
Also on the patient docket is Alex, winningly played by Maulik Pancholy, who is coming to grips with the fact his is gay but yet unable to accept his sexuality prompting him to fantasize the relationships he longs to have.
On a somewhat lighter note is the obsessive-compulsive hoarder Jerome, a versatile Kenny Mellman, who is trying to both get out from under the boxes he's accumulated and his domineering mother, again effectively embodied by Laura Esterman. Once unburdening his patient story, Jerome puts on a fresh hat and takes up a role at the piano (being a multi-talented performer most recently seen in Kiki and Herb) to support the play's musical interludes.
Director Scott Elliott deftly re-enforces the play's Our Town feel by emphasizing the ordinary quality of the people populating this play and having these characters seated among audience members who have been invited to share the stage. This institutional setting is supported by Derek McLane's scenic design while Jeff Croiter;s lighting fluidly moves the real and imagined action along their varied trajectories.
Good for Otto is actually three plays in one, which is probably why it runs a hefty three hours, and why its overall impact is diluted. First it is the story of six patients and three family members, coupled with two ghosts, trying to work through their pain and find better lives. Next it is a story about Dr. Michaels and his journey to heal himself as well as his patients while he battles with the toxic ghost of his mother. Finally it is a cautionary tale of the sick underfunded state of our mental health care system and the callous red-tape imposed by case managing insurers.
Rabe seems to try and tie all these threads together taking a page out of Timothy's notebook on life, "Fortune Favors the Brave," highlighting the fundamental courage of the patients and the counselors dedicated to treating them with care. He would have succeeded more effectively, however, if he had tightened his focus as he did with earlier powerful plays for which he is known, such as Sticks and Bones, Streamers, and Hurlyburly.
Good for Otto
Pershing Square Signature Center
480 West 42nd Street
212 279-4200
Play runs three hours
Closing date is April 8, 2018