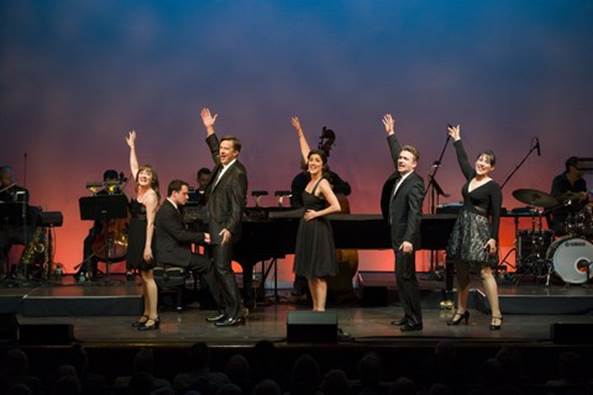 Laura Darrell, Lewis Cleale, Samantha Massell, James Snyder and Farah Alvin (Photo credit: Richard Termine)
Frank Loesser: Lyricist
                      at the 92nd Street Y
                                        by Deirdre Donovan
Frank Loesser didn't write for posterity.  But his name still rings down the ages for his enduring contributions to the American Songbook.
A tribute to the artist was recently given as part of the 92nd Street Y's Lyrics & Lyricists series, aptly-titled "Frank Loesser:  Lyricist."  David Loud hosted the concert, and was accompanied by a quintet of showbiz veterans: Farah Alvin, Lewis Cleale, Laura Darrell, Samantha Massell, and James Snyder.  Directed and choreographed by Luis Perez, it was a musical confection that drew from the music box of the master, including a broad sampling from his oeuvre.
Loud, who enthusiastically hailed as a Loesser disciple, provided us with a well-rounded portrait of the artist.  After introducing himself on stage, Loud confided that the Loesser program would be presenting, not only his standards, but some of his lesser-known works as well.
The concert started with "I Hear Music" from the 1940 Paramount Pictures movie Dancing on a Dime. Sung vibrantly by the company, it invited the audience to perk up their ears and tune into Loesserland.  Loesser was well-known for his talent for transmuting into music the sounds of ordinary life, and this opening number pointed up this quality:
 "I hear music
Mighty fine music
The murmur of a morning breeze up there
The rattle of the milkman on the stair. . ."
As the song's final notes faded out, Loud resumed his job as narrator-host and gave us the vitals on Loesser's early life and career.  Born on June 29, 1910 in New York City to Henry and Julia Loesser (Henry's second wife) who had separately emigrated to America in the late 19th century, Frank would become the rebel in a family that highly valued European tradition and intellectual success.  At age 2, Frank stubbornly refused to speak German, the preferred language of the family.  And, unlike his older half-brother Arthur who became a concert pianist, critic, and musicologist, Frank had little patience for taking piano lessons from his father (a full-time piano teacher) and self-taught himself music.  A bright child but mischievous, he was expelled from a high school for gifted children due to his chronic practical joking and later was expelled from City College of New York for failing everything but English and gym.
Although Frank's attempts at formal education were troubling to the family, something much more troubling was on the Loessers' horizon.  The father Henry died suddenly after dinner when Frank was 16, and the entire family was devastated.  The father had left no pension or savings—and the mourning family needed an immediate source of income.  Thus, the mother Julia took off her kitchen apron and stoically went to work as a lecturer of literature.  The prodigy-son Arthur stopped his concert touring and settled into a full-time teaching career in music. And Frank did odd jobs that ranged from selling classified ads at the Herald Tribune, doing stints as editors on various newspapers, and screwing lids on insecticide cans.  Still, Frank's dream of being a Tin Pan Alley troubadour glowed within his musical heart.
As the 1920s changed into the 1930s, Loesser began frequenting the Back Drop night club (where he met his first wife) and made valuable connections in the music world.  In fact, a few songs that he wrote with Joseph Meyer in 1934 have survived, including "Junk Man" and "I Wish I Were Twins." 
Loesser left New York City to write for Hollywood in the 40s. One song from his early Hollywood years was "I Don't Want to Walk Without You, Baby," for which Jule Styne wrote the music.  Samantha Massell infused new energy into the romantic ballad for everybody at Kaufmann Hall.  And if anybody asks if the song has lost its original magic, the answer is found in the final word of the refrain:  No-sir-ee.
The War years didn't clip the creative wings of Loesser—they broadened them.  In 1942, he took a quotation from a news story (think "Praise the Lord and pass the ammunition") that was rumored to be the words of an army chaplain and spun them into lyrical gold.  Loesser wrote his own music for the lyrics this time round, and now could officially hyphenate his title as lyricist-composer.  The folksy song was a smash, sold over two million records, and gave Uncle Sam something to sing about.
Loesser got his first break on Broadway when producers Cy Feuer and Ernest Martin asked Loesser to write the music and lyrics for a stage adaptation of Brandon Thomas' play Charley's Aunt. Loesser agreed—and Where's Charley? was cooked up and landed successfully on Broadway in 1948.
Some audience members smiled in recognition as "Song of a Summer Night" (The Most Happy Fella) brought an operatic flavor to the proceedings.  The next song, "Snug as a Bug in a Rug" (The Gracie Allen Murder Case), showed off Loesser's gift for interlocking rhymes and simplicity. 
Loud continued to dole out anecdotes plucked from Loesser's colorful personal and public life—and the audience leaned in for each and every one.  Of course, the most famous one is the time Loesser slapped Isabel Bigley, the soprano lead in the original production of Guys and Dolls, because she wasn't singing "If I Were a Bell" to his satisfaction. Though Loesser immediately realized that he had gone too far, and later sent Bigley flowers to apologize for his bad behavior, the singer most reluctantly returned to rehearsals.  Yes, Loesser did coach Bigley again.  But this time, Loud assured us, it was without corporal punishment.
Loesser gained a reputation for being a fireball of an artist.  But he also was hailed as a genius.  With his protean talent, he could tickle your funny bone, jog a memory of an old romance, touch your heart, or see something ordinary in an extraordinary way. 
The song "Bloop, Bleep," in fact, wonderfully illustrates how he blended onomatopoeia and his imagination to create a memorable song about a leaky faucet at night.  Performed by Alvin in pajamas atop the grand piano on stage, she both sang the lyrics and comically re-enacted what it's like to listen to the maddening drip of a faucet while trying to fall asleep.  According to Loud, plumbers have taken a special shine to this song and anointed Loesser their guardian angel.
If a leaky faucet can keep one awake in the wee hours of the morning, so can true love.  And who can possibly doubt this after listening to Loesser's "Two Sleepy People" (from the 1938 film Thanks for the Memory), which Cleale and Massell freshly performed as a contrapuntal duet.  In this dream of a song, two lovers find it impossible to part even though dawn is near.
Loesser's "Hamlet" from the 1949 film Red, Hot, and Blue added some literary flavor to the program.   Sung by Alvin (again), this four-minute recap of Shakespeare's Hamlet pokes fun and gives a new musical twist to the classic.  Alvin wonderfully delivered the parody, reminding everybody that Prince Hamlet lived in a dog-eat-dog world in Denmark and developed quite a bite himself.
Samantha Massell and James Snyder
The curtain-raiser for Act II was a menagerie of hits from Guys and Dolls.  It robustly started out with the romantically-tinged "If I Were a Bell", and then segued into "Fugue for Tinhorns," the nominal "Guys and Dolls," and "I've Never Been in Love Before." This musical quartet was the high water mark of the concert--and Loud couldn't resist chiming in with a story about Frank Sinatra, who was cast as Nathan Detroit in the film version of Guys and Dolls.  According to Loesser lore, Sinatra insisted on crooning the film's songs in his own way, which greatly annoyed Loesser.  When the two "Franks" agreed to meet at a bungalow to work out the particulars of how "Sue Me" should be performed, they ended up verbally exploding at each other.  Sinatra stubbornly stuck to his crooning style--and Loesser refused to watch the film adaptation of Guys and Dolls.  And both men never spoke to each other again.
Samantha Massell, Laura Darrell, Farah Alvin, Lewis Cleale and James Snyder
"The Brotherhood of Man" was the sole offering from the blue-chip musical How to Succeed in Business without Really Trying.  But as ably rendered by Cleale, Snyder and the company, it captured the soul of the musical.  Loud reminded the audience that Loesser and the constellation of artists who labored on the show won a raft of awards, including the 1962 Pulitzer Prize (shared by Loesser and Abe Burrows). Although many artists would be thrilled to win this prestigious award, Loesser reacted more with a shrug than anything else.  In fact, in Susan Loesser's charming biography of her father, A Most Remarkable Fella, she noted that her father always referred to the award as his "Putziller" and "refused to take it seriously."
Not everything turned up roses for Loesser, however.  His 1960 musical Greenwillow was pretty much a flop with the critics.  The story centers on an imaginary village populated by quaint folk in a faraway time. The critic Kenneth Tynan mercilessly picked apart the fairytale musical and remarked "it made Glocca Morra look like a teeming slum."  Brooks Atkinson, in fact, was the only major critic who sang its praises, citing that Loesser "has provided a warm and varied score that captures the simple moods of the story." In a brief tribute to the work at the 92nd Street Y, James Snyder sang "Never Will I Marry," the one song that has survived into popular culture (and been memorably recorded by Barbra Streisand).  Following the song, Loud quoted from the cable that Loesser sent on closing night to the Greenwillow cast:  "Oops, sorry."
Strangely, there was no revisiting of Loesser's "pet" contrapuntal duet, "Baby, It's Cold Outside" or the beloved "What Are You Doing New Year's Eve?" (that Loesser preferred to be sung NOT around the winter holidays.)  But, except for these omissions, the program was a delicious smorgasbord of Loesser's oeuvre.
Unlike his father Henry and brother Arthur who pursued the high-brow in music, Frank continually was drawn to the low-brow.  Although his family felt that his pedestrian pursuits were foolish, and that Hollywood and Broadway fed on trash, Loesser was the only one of the Loessers who became famous and whose music would be enrolled in musical Americana.
The concert ended with a reprise of "I Hear the Music," richly sung by the company.   Indeed, we had come full circle in two hours and become richer in our appreciation of Loesser's art.  Perhaps Loesser's daughter Susan best captured the artist with the closing lines of her memoir that were inspired by her father's death on June 28th, 1969, at age 59:  "The great fiery comet that had been my father had burned himself out, and it took us all a long long time to stop looking for his light."
Performances ran June 2-4
Lyrics & Lyricists series
"Frank Loesser:  Lyricist"
at the 92nd Street Y, 1395 Lexington Avenue (between 91st & 92nd Streets)
For more information, visit www.92y.org
Running time:  approximately 2 hours with one intermission.