Betsy Morgan, Barbara Walsh, and Caissie Levy .                                 Photo Credit: Joan Marcus
By Michall Jeffers
There is real brilliance in Michael John LaChiusa's  First Daughter Suite, but it's not always easy to take. For anyone who's been enmeshed in a difficult mother/daughter scenario, for anyone who shares a sisterhood that teeters between love and rivalry, and for those who have suffered the loss of a loved one, this production is emotional dynamite.
Female inhabitants of the White House are constantly being scrutinized. They are venerated or vilified, for what they do or don't say, how they dress, how they behave. An outer shell has to develop, and sometimes, it's hard to shed the image they've created, even with those they love most. There are four vignettes featured in order of the terms of Richard Nixon, Jimmy Carter, Ronald Reagan, and George W. Bush. But none of these men appear. Instead, we're given a window into the lives of their wives and daughters.  It is immediately clear that this is not just a play, but rather, a modern opera. The music is, by turns, contemplative, rollicking, and sensitive.  All the performers are stunningly superb as actors and as singers, with a couple of unforgettable standouts.
The entire country was caught up in the anticipation of Tricia Nixon's (Betsy Morgan) White House wedding in June, 1972. We can well imagine the anxiety felt by Tricia, her mother Pat (Barbara Walsh), and her already married sister Julie (Caissie Levy). Also in the picture is the woman Nixon publicly described as "a saint," his long dead but still disapproving Quaker mother, Hannah (Theresa McCarthy). As Hannah's long suffering daughter-in-law tries to calm and comfort her daughters, the apparition that is Hannah needles her, expresses her disappointment in Dick, and pronounces more than once, "Thee are weak." Meanwhile, Pat and her girls have to deal with the vagaries of the weather for Tricia's outdoor wedding. The title of this section of the play is ironically named "Happy Pat," but as we learn, the First Lady yearns for even a moment of happiness. Walsh brilliantly conveys how tightly wound Pat had to be, and with just her expression, the terrible stress she endured.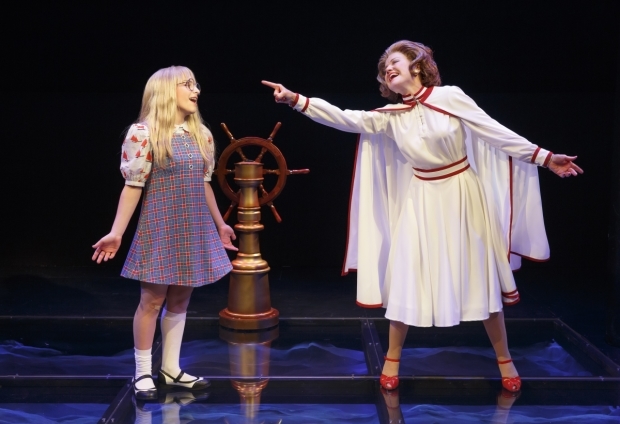 Next up is the Carter family. An exuberant Amy (Carly Tamer) dreams that she's  on The Presidential Yacht with her anodyne mother, Rosalynn Carter (Rachel Bay Jones), a very tipsy Betty Ford (Alison Fraser), and Amy's idol, Susan Ford (Morgan), "the coolest girl ever to live in the White House." It's 1980, and in Amy's feverish imagination, they're sailing to Iran to free the hostages.  Rosalynn explains to Amy that as the daughter of a President, her life can never be normal. The always wonderful Alison Fraser shows us the desperation of the former First Lady who can't stop dancing, or drinking. She is unfailingly cheery, frantically attempting to keep the pain at bay. Susan turns out to be even more admirable than Amy imagined her to be. She's surly, wise-cracking, and reminds the boat passengers that her father had to leave the White House because of Jimmy Carter. This is indeed one memorable sailing adventure.

1986 finds an always composed Nancy Reagan (Fraser) poolside at her fabulously wealthy chum Betsy Bloomingdale's house. Her daughter, Patti Davis (Levy) all but sets herself on fire trying to get a rise out of her mother. At the least, she wants attention to be paid to her by a parent she considers to have been abusive ("Slap, slap!") The small amount of dialogue in the play is spoken here, at the beginning of the tangle between mother and daughter. Nancy repeats the mantra that "Ronnie didn't know" when brought to task for the Iran-Contra debacle. Nancy maintains her frozen façade, even when skewering a White House staffer on the phone, and scheming with her Paraguayan maid, Anita (Isabel Santiago).  It must be noted that while no longer an ingénue, Fraser looks great in her red bathing suit; dancing has, no doubt, contributed to her gorgeous gams.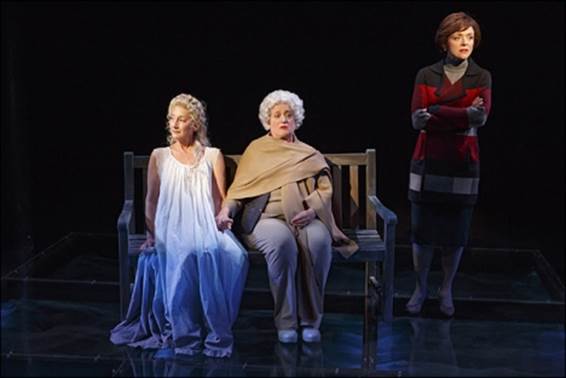 Mary Testa may not seem an obvious choice to play Barbara (Bar) Bush, but she totally nails the frosty New England matron with ice in her veins, and anguish in her heart. Kennebunkport, Maine is the October 11, 2005 setting at the Bush compound. Bar's daughter-in-law, Laura (Jones) tries to get the matriarch inside, but Bar prefers to stay out near the cold Maine waterfront. She has a standing date with her late daughter Robin (McCarthy), a golden haired angel who died of Leukemia before her fourth birthday. As with the rest of the production, the audience cannot help but wonder what is fact and what is fiction. Robin Bush did die on that date, but her mother has stated "Robin to me is a joy. She's like an angel to me, and she's not a sadness or a sorrow." Yet, the wrenching scene between mother and daughter on their once a year "special day" rings true. Bar's emotions are so apparent and so real, Testa easily brings all but the most hard-hearted audience members to tears. Laura is more than a match for her feisty mother-in-law, and their confrontation brings a climax to the evening that seems to some up most of the relationships in the vignettes.
On a very small stage, director Kirsten Sanderson has vividly provided us with the vision to imagine all the venues of the evening. She understands the strength of her dazzling cast, and guides them to give what may well be the best performances of their careers. The choreography of Chase Brock is a perfect fit for Fraser's pre-Betty Ford Center Betty Ford. The costumes, by Toni-Leslie James, and the wigs by Robert-Charles Vallance couldn't be more on point.
This is a presentation to be experienced, discussed, and savored. It must definitely be declared one of the finest productions of the season.
First Daughter Suite; Public Theater at the Anspacher Theater; 425 Lafayette St.
212-260-2400;  publictheater.org; 2 hours. 30 minutes
Extended through 11/22/15
Author,  Michael John LaChiusa; Director,  Kirsten Sanderson; Scenic designer, Scott Pask; Costume designer, Toni-Leslie James; Lighter designer, Tyler Micoleau
Cast Alison Fraser ( Nancy Reagan/Betty Ford), Rachel Bay Jones (Laura Bush/Rosalynn Carter), Caissie Levy (Patti Davis/Julie Nixon), Theresa McCarthy (Robin Bush/Hannah Nixon); Betsy Morgan  (Trisha Nixon/Susan Ford), Isabel Santiago (Anita Castelo), Carly Tamer (Amy Carter), Mary Testa (Barbara Bush),  Barbara Walsh (Pat Nixon)