Britney Coleman and Carolee Carmello                    
Photo Credit: Joan Marcus
                   By Jeanne Lieberman
The Encores! Series, burst upon the scene twenty five years ago on a snowy week in February, 1994 with a staged concert production of Fiorello!  It was immediately sold out, so, when a blizzard shut down many modes of transportation, an intrepid group of New Yorkers, spurred on by the lure of cancelled and available seats, trudged on foot, cross country skis, hitched rides on rogue buses, who stopped mid street to pick up stragglers gratis, to the theater where they found a camaraderie of 400 like minded theater fans. I was lucky to get the last ticket, in the mezzanine, next to an elderly columnist from the New York Times whom I helped home afterwards.
And here one should mention the special and integral element of any Encores! production - the audience! – a highly cultured group, many as vintage as the musicals, having seen the originals and thrilled to revisit them, who arrive at each of the  limited performances self congratulatory about their good fortune and expert planning or just plain luck, exhilarated at sharing a rarified experience. So, even when mildly disappointed, no one ever complains about being there
This contributes to a perfect theater experience. And it's a perfect experience for the performers as well as  they revel in the novel experience of singing in front of the orchestra instead of over them as traditionally in the pit. And what orchestrations they are as music director/conductor Rob Berman's painstaking research led a happy conglomeration of no less than 30 musicians delivering that great and unique "Broadway sound" of shows mostly from the 60's.
What could be more tantalizing than one "overlooked" show from the past?
Eight shows from the past!
Testing this audience Artistic Director Jack Vertex conceived the experimental idea to dedicate the evening to several and not just one musical in an effort to satisfy the demands of many for more musicals, with snippets of eight instead of one whole. (To be perfectly frank, many of the old shows on the Encores! roster had pretty dippy plots even in their abbreviated versions)
There were twenty more or less familiar songs from eight musicals of lesser or greater familiarity with only the barest hint of the time period and plot and possible significance. Director Marc Bruni met the challenge to keep his 30 plus cast at a brisk pace. Affable Bob Martin, in the guise of his memorable role as Man in the Chair from Drowsy Chaperone, nimbly provided a guided tour, which he himself wrote, providing some connectivity to the disparate numbers to appease "an opinionated Encores! subscriber who's disappointed that we haven't done any of these musicals".
Bob Martin
There was a palpable buzz of excitement thanks to set designer Allen Moyer's idea to festoon the curtain with 20 Encores! Playbills from the past and the reminder that they are celebrating 25 years, and then, as curtain ascended, additional playbills on all remaining walls of the stage
Indeed the show's title song and opener "Hey Look Me Over" aptly states the Encores! mission to re-examine the merits of worthy musicals not likely to be seen again.
Like that famous box of candies, not all are great; three songs from Milk and Honey a tad too sweet, an overlong segment from Greenwillow, ( "the lesser of the Frank Loesser shows") perhaps an homage to his widow Jo who is often present and a generous contributor to the series, and an odd appearance by crowd favorite Vanessa Williams who, as presented, seemingly burst in with little introduction delivering two songs from Jamaica.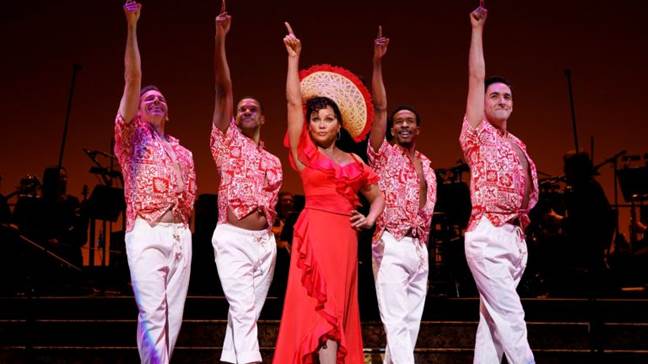 Vanessa Williams                                                                                           
Another advantage and big plus to Encores! productions is its ability to snare some top talents who can only spare a week to learn and perform some great numbers without a long term commitment. Included in the illustrious assemblage were legendary Broadway veterans such as, in no particular order, Douglas Sills knocking it out of the park as Mack Sennet in an ode to the silents when "Movies Were Movies" (Jerry Herman's Mack & Mabel), Reed Birney who proved that a great versatile actor can do anything in his first ever musical as the humble yet brilliant immigrant professor in "What A Country" and then in  the wistful, almost love duet with sweet, soaring voiced Judy Kuhn in the tender "Once Upon a Time" (Strouse & Adams' All American).  Marc Kurdish bellowing out "Shalom" in his strong baritone (Herman's Milk and Honey), Vanessa Williams inserting sensuality into "Push De Button" (Harold Arlen's Jamaica), spunky Carolee Carmello launching the evening with the title song (Cy Coleman's Wildcat), guaranteed show stopper Bebe Neuwirth with her many encores in "Why do the Wrong People Travel" (Noel Coward's Sail Away) and versatile Nancy Opel picking up the slack whenever needed.
Included in this constellation were some brilliant new talents like Alexandra Socha captivating in "Look What Happened to Mabel" (Mack & Mabel), Clifton Duncan breaking hearts in "Never Will I Marry" (Green Willow) and multi talented Clyde Alves' exuberant song and tap number and show finale "Give My Regards to Broadway" (George M!) as a prime example of how Denis Jones choreography can enhance a number. (Joel Grey made a surprise appearance reprising his role as George M Cohan one night which brought the house down).
 It is hard to discern the theme of the evening:  starting with and ending with 2 show biz anthems "Hey Look Me Over" and "Give My regards to Broadway, and a direct and indirect respect for immigration (or are we all desperately seeking that everywhere?): the obvious All American, Jamaica, or the reverse - Americans abroad (Milk & Honey, Noel Coward's Sail Away); the pioneering spirit of Green Willow and Wildcat to the ultimate paean to early Hollywood Mack & Mable.
What holds these bon bons together is the box itself, Encores! ineffable adoration and respect for our national treasure, the American musical.
Proving that in show biz more is better, as the final applause subsided, was the show's surprise delight, the paean to the Statue of Liberty in a song created by America's most ardent immigrant, Irving Berlin, to Emma Lazarus' famous inscription. Timelier than ever!
Purists can look forward to Encores! return to traditional format in their next production:
Grand Hotel, The Musical
Mar 21—25, 2018
Me and My Girl
May 9—13, 2018


City Center
131 W. 55th St.
Midtown West
212-581-1212