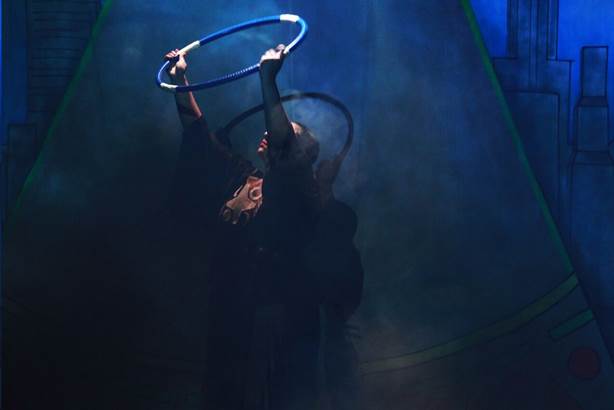 Danielle Soames (Mohawk/Kahnawake Nations) Photo Credit: Maya Bitan
††††††††††††††††††††††††††††††††††††††††††
†††††† By Edward Medina
In order to gain entry to the Safe Harbors Indigenous Collectiveís production of Donít Feed The Indians: A Devine Comedy Pageant at the legendary La MaMaís Downstairs Theatre you must first pass through a sideshow. Your guide through this living tableau of indigenous fallacies and misrepresentations is a tall well-dressed ponytailed huckster in braids and sunglasses. Youíre given gold chocolate coins to toss in the baskets of the presented freaks in order to feed the Indians an enticement to perform for you. Thereís the half-naked, half breed singing warrior brave, the firewater drinking alcoholic homeless veteran of many wars, and of course the cigar smoking tobacco selling old woman indecipherably chanting away, all there for your enjoyment before you take your seat in the theater for the main event.
The carnival atmosphere, beautifully created by set designer Ann Mirjam Vaikla, lighting designer Cecilia Durbin, and costume designer Sheldon Raymore, continues on inside. What follows is an absurdist collection of songs, skits, and parables about expected racial archetypes and the insufferable lengths to which Native American actors must go through to fit into those molds or find themselves without professional employment. Loosely based on Danteís Divine Comedy, the story presents the onstage performances and backstage dramas of a Native American family of performers trying to satisfy an audience starving for those stereotypes while dealing with the personal costs of living up to the lies imposed upon them to match the forced expectations of the Eurocentric crowd. This is a twisted variety show with the punch of an in-your-face moral message thatís meant to amuse, but make one squirm in the process.
John Scott-Richardson (Haliwa-Saponi Nation), Danielle Soames (Mohawk/Kahnawake Nations), Kevin Tarrant (Hopi/Ho-Chunk Nations), Nicholson Billey (Delaware/Choctaw/Creek Nations), George Stonefish (Delaware/Chippewa Nations) Photo Credit: Maya Bitan
There are bits exposing the racism of supposedly tried and true entertainments like Disneyís Peter Pan and the musical Annie Get Your Gun. Indian Casino shows are also on display here with an emcee from hell and the comedic stylings of a beaded borscht belt husband and wife team that present the irony of double edged self-deprecating humor. Television is properly skewered as well with a very funny use of Keeping Up With The Kardashians to exemplify the cost that individuals pay when living a lie. These are all set against real and touching revelations of autobiographical sacrifices made in the act of attempting against all odds to live an artistís life including depression, family conflict, forced rape, and the loss of leaders and elders as the fight for equality and acceptance rolls ceaselessly on.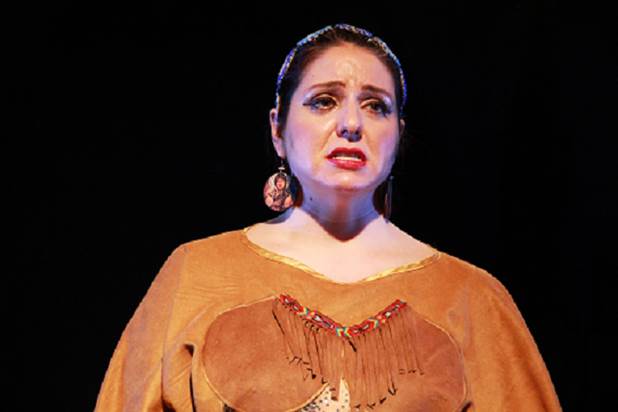 Donít Feed the Indians was conceived, written, and directed by Murielle Borst-Tarrant (Kuna/Rappahannock Nations), with musical direction by Kevin Tarrant (Hopi/Ho-Chunk Nations) both of whom serve double duty in the cast as well turning in some of the funniest and touching work of the show. The balance of this talented all Native American ensemble includes Nicholson Billey (Delaware/Choctaw Nations), John Scott-Richardson (Haliwa-Saponi Tribe), Danielle Soames (Mohawk/Kahnawake Nations), Henu Josephine Tarrant (Hopi/Ho-Chunk/Kuna/Rappahannock Nations), Joe Cross (Caddo/Nation of Oklahoma), Tony Enos (Cherokee Nation), George Stonefish (Delaware Chippewa/First Nation) and Gloria Miguel (Kuna/Rappahannock Nations). Each of these actors delivers performances ranging from spiritual ritual, broad slapstick, and heart wrenching sadness with utmost skill and grace.
This is a production whose heart is in the right place and whose cause is righteous. The overriding message is everything here and thatís not only laudable but also commendable. That being said this is also a production whose heart and cause cries out for some focus in the telling. The script is in need of editing and the production overall is in need of tighter direction. The old adage of less is more is apt here. Many of the target points are being missed in the scattershot delivery of scene, after scene, after scene with the encroaching feeling of repetitiveness around every corner. A sharper focused beam would shed even more light on these all important issues and would greater serve to correct the injustices being presented. One would hope that the production and artistic teams of Donít Feed The Indians will return to the stage after having polished this diamond in the rough once more.
La MaMa
Downstairs Theatre
66 East 4th St
New York, NY 1003
212.352.3101
$25 Adult Tickets; $20 Students/Seniors + $1 Facility Fee
Nov 2 Ė Nov 19, 2017