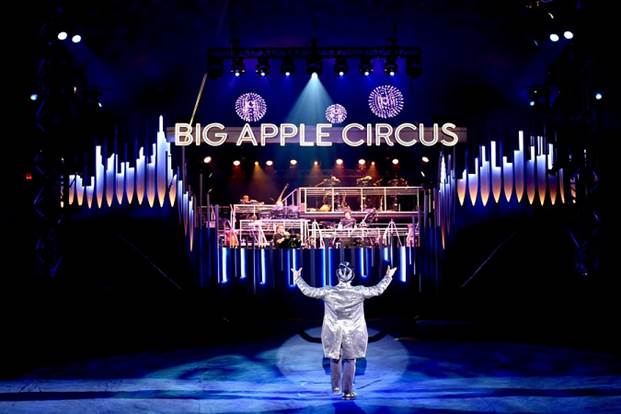 Ringmaster Ty Photo credit: Juliana Crawford
                        By Edward Medina
Hidden away in the corner of Lincoln Center Plaza's Damrosch Park is a grand tent. It sits on the stage right side of the Metropolitan Opera House. Covered in gold stars on its surface, and filled with genuine stars within, the large blue big top is surrounded by a caravan of black wagons emblazoned with gold lettering proclaiming the return of the Big Apple Circus to its metropolitan home.
Not too many cities in the world are able to boast of having a circus named after them but New York City can proudly make that claim. That honor was almost lost a season or so ago. The Big Apple Circus was in debt, insolvent, and declared bankrupt. The Grand Tour, it's last named production, was to be its final appearance. After some clever moves, including changing from a non-profit status to a for profit status, and along with some bold investors who saw the value in saving this rather unique icon, the circus was reborn. Under new ownership, with stunning new and returning headliners this cultural gem has made a triumphant return to New York City just in time for its 40th anniversary season.
Famous for its European-style one-ring presentation, where no seat is more than fifty feet from the performers, this intimate setting puts the performers almost within reach and makes their breathtaking feats all the more dramatic. Under the leadership of new Ringmaster Tyron "Ty" McFarlan the circus is in laudable hands. Formally of the now sadly defunct Ringling Brothers Barnum and Bailey Circus host McFarlan brings with him the commanding presence of a three ring circus master tempered with a charming one ring sensibility that guides audience and performers through a marvel of a show.
This is a tight, fast paced, extravaganza of great talent that includes the married dynamic duo of Dandino & Luciana, who combine speed, acrobatics and daredevil grace on roller skates. There's the award-winning contortionist Elayne Kramer, master juggler Gamal Garcia, the balancing skills of Jan Damm on the tricky Rola Bola board, and the acclaimed acrobatics of The Anastasini Brothers.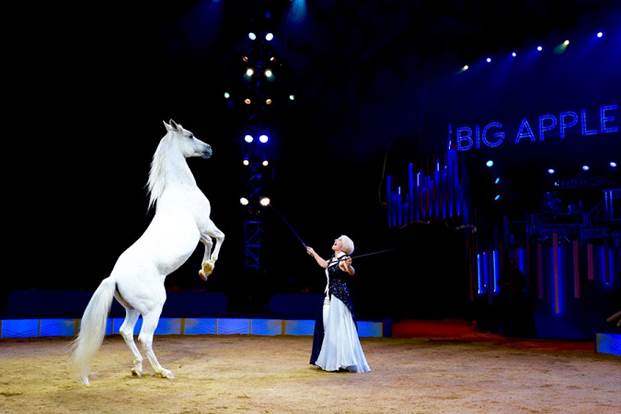 Jenny Vidbel Photo credit: Juliana Crawford
Circus trainer and presenter Jenny Vidbel, performs beautifully in the ring with sixteen horses and ponies, and some very lucky rescue dogs. For over ten years Big Apple Circus has maintained a vital no wild or exotic animals policy. The talented animals that appear with her are all a part of this third generation animal trainer's own family.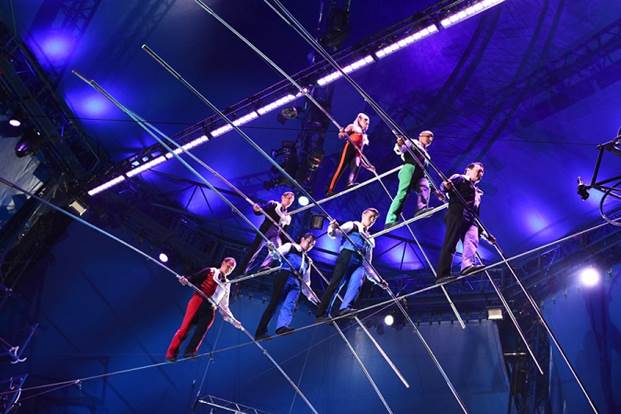 Nik Wallenda and the Fabulous Wallendas                                 Photo credit: Juliana Crawford
Circus royalty is featured here as well with record-breaking legends Nik Wallenda and The Fabulous Wallendas wowing the crowd with their famous seven-person pyramid on the high wire and The Flying Tunizianis executing their daring quadruple somersault on the trapeze. This is the first time in circus history that both legendary feats are being performed in the same show. Joining these daring acts are the comedy hijinks of Grandma the Clown. This marks the return of the Big Apple Circus icon and Barry Lubin the man that brings her to life. Lubin is a member of the International Clown Hall of Fame and the first professional clown to perform on all seven continents. This is Grandma's twenty fifth season and this time she's paired with sidekick, Joel Jeske. The well teamed pair are a joy to watch and fill the tent with sheer comedic bliss.
The production team assembled for this 40th Anniversary season is another stellar compilation. Director Mark Lonergan, is a three-time Drama Desk Award nominee and his skills serve this production well. Choreographer and associate director Antoinette DiPietropolo keeps the action moving at a quick pace. Giving everything a grander than usual look is Tony Award winning Lighting Designer Jeff Croiter and Scenic Designers Rob Bissinger and Anita LaScala. Drama Desk Award nominated Costume Designer Amy Clark delivers the fun of sparkle and spandex. Special mentions must also go to Crew Chief Matthew "Toystore" Zimmerman and the ever present Ring Crew, along with Music Director Rob Slowik, Conductor Rob Slowik and the Band.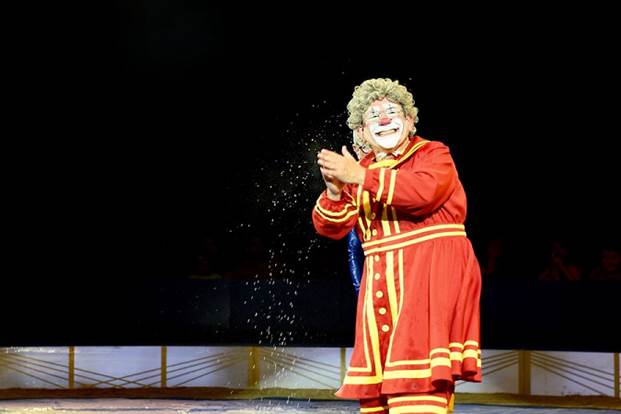 Grandma the Clown Photo credit: Juliana Crawford
It should also be noted that Big Apple Circus will continue its four decade commitment to audience and community outreach programs. Circus of the Senses offers special enhanced experiences for guests with autism, visual, and auditory challenges. The special performances include ASL interpretation, assistive listening devices with live audio commentary, before and after show touch therapy experiences, and a Braille program book. Sensory-friendly performances for Autistic audience members will feature lower light and sound levels, a descriptive picture book showing the different areas and acts involved with the circus, and a "calming center" that can be accessed at any point during the show. Also, as part of the Circus for All initiative, eleven performances throughout the ten-week run will offer $10 tickets for every seat in the house to underprivileged children and underserved schools.
Though updated and freshly polished the Big Apple Circus is still, at its core, entertainment at its finest. The finale brings the full complement of performers center stage and as they enter the ring en masse one is reminded that this circus is a multi-generational institution. One that generations of guest families have returned to year after year to enjoy as well. On both sides of the ring circus life is family life. Everyone responsible for the 40th Anniversary Edition of the Big Apple Circus should feel proud of not only rising from the ashes but for soaring like a phoenix as well. New Yorkers should also attend filled with pride that their circus is home again and in truly fine form.
Lincoln Center
3 Lincoln Center Plaza
New York, NY 10023
$37.50 - $129
212.257.2330
Through Jan 7, 2018